Contemporary necklaces for every occasion, with our myriad designs, you can find a necklace that's as unique as you are. Explore our wear-with-everything designs to instantly elevate your look. Shop now
267 Items
Recommended
Price High to Low
Price Low to High
Bestseller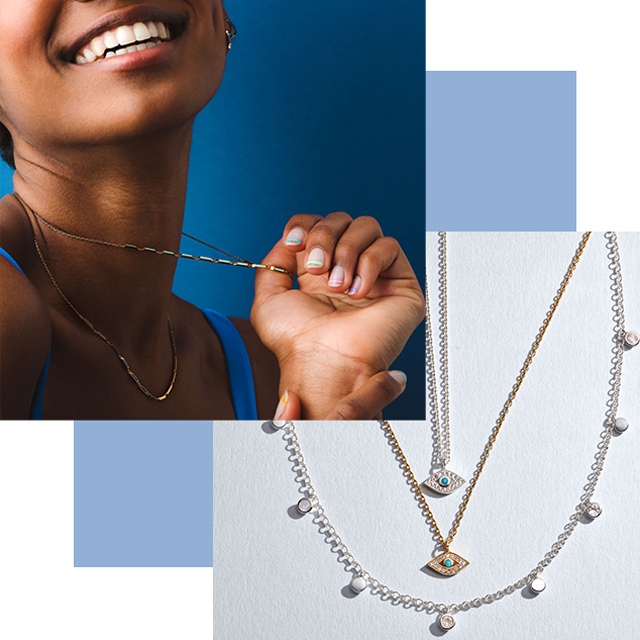 Gold & Silver Necklaces
Necklaces are the perfect way to express your personal style, and some of our pendant necklacess can even be engraved, so you can really make it yours. Whether you prefer a sterling silver necklace or gold, we've got every occasion covered. Choose from fine chains adorned with ethical diamonds, pearl chokers for casual elegance, chunky chain styles for maximum layering, gemstone pendants for a pop of colour, beaded enamel styles for playful stacking, lariat necklaces with talismanic charms, and much more. All set in either 14 carat solid gold, white gold and rose gold, or 18 carat gold vermeil and sterling silver. Choose a few for a layered look or choose one for a pared down statement.
Layered Necklaces
Our stackable chains can be worn together and at different lengths, so when you can't decide on one, pile them up to create a unique neckmess. We always recommend starting with one hero piece, we love lockets, and building out from there. Once you've collected a range of AC necklaces, watch how no two stacks will ever be the same. Create your own narrative, every day.
Personalised Necklaces
If you're like us, and like your jewellery personalised, take a look at our bestselling engravable photo lockets. Available in a range of locket styles, simply upload one or two photos, engrave the back with your initials, a symbol or a sentimental date, and we'll take care of the rest. An Astley Clarke locket necklace is not only the perfect wear-everywhere style, but also a beautiful gift for anyone wanting to keep something or someone special, close to their heart. It's a modern heirloom in the making.
Gemstone Necklaces
Flaunt your favourite gemstone and showcase its natural beauty and healing powers. From precious pearls and diamonds to colourful stones with intricate markings like Lapis Lazuli and Malachite, there's a gorgeous gemstone to suit any vibe. Our gemstone pendants and necklaces don't just look good, they feel good too.
Ethical and Responsibly Sourced
We work exclusively with noble metals and ethically sourced diamonds and gemstones. We are a conscious brand, and our purpose is to design jewellery that will last, not its effect on the planet. That's why we encourage everyone to go precious, every day. Available with free global delivery and free returns for the UK, USA and Europe. Choose our eco-friendly packing at the checkout to help us reduce our carbon footprint.