Packaging & Gift Wrap
Whether your AC jewellery is a treat for you or a gift for someone else, we've got you covered when it comes to eco-friendly packaging and hassle-free gift wrap options.
How will my jewellery come packaged as standard?
If you don't select gift wrap, you have the option to choose either eco packaging or our signature packaging at checkout - both completely complementary. Don't worry, all of our new packaging is planet-friendly and recyclable (which we'll tell you all about below) so choosing the eco option simply means you will receive less packaging.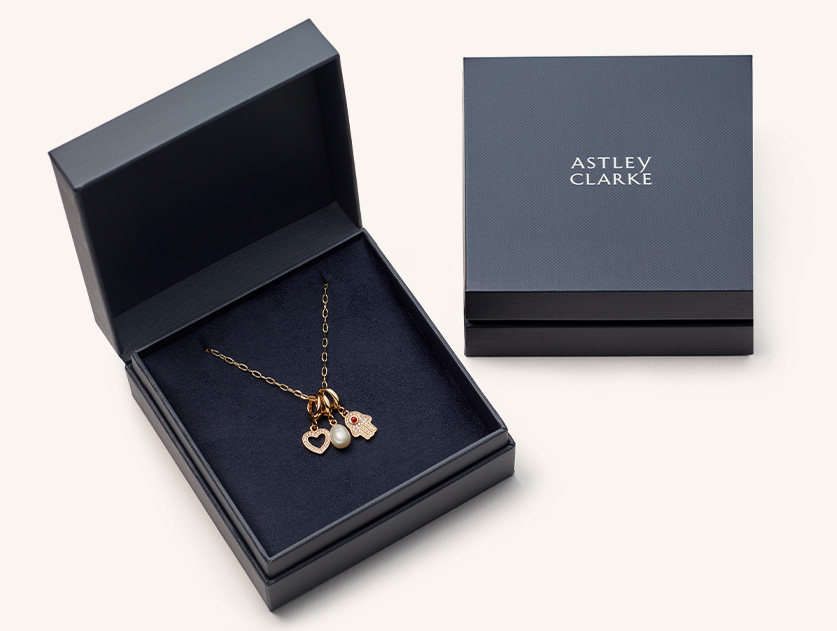 Signature packaging
If you choose this option you'll find your piece inside a recycled pouch within our signature presentation box - all contained within your delivery box. Our new presentation boxes and inserts now have no metal hinges and no glue to ensure they are fully recyclable.
Eco Packaging
If you select eco packaging at checkout, you'll receive less packaging - with your piece inside a stylish RPET (recycled polyethylene terephthalate) pouch nestled in a fully recyclable delivery box. You've still got the pouch to store your jewellery, but without the bother and wastage of the extra presentation box and additional packaging.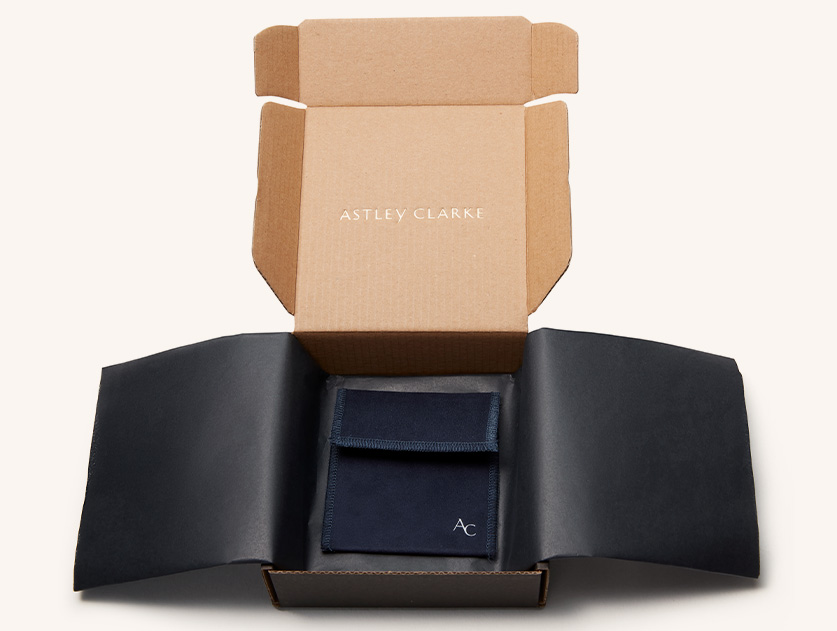 How does the gift wrap option work?
Gift wrap is the cherry on top when it comes to a thoughtful, beautiful gift. But if you're not a natural-born wrapper or are simply tight on time, our Gift Wrap option is ideal. As well as looking super beautiful and luxurious, all our new gift wrap is handmade right here in the UK and is now fully recyclable and sustainably-minded, from our recycled pouches to our factory processes.

It couldn't be easier to add gift wrap to your Astley Clarke order. At checkout, select the option to add Gift Wrap for just £5. You'll be given the option to choose either Gift Wrapping or Gift Wrap to use at home. If you want the piece to arrive wrapped and ready to gift straight away, choose the first option. If you'd like to check (or admire!) your piece first, choose the at-home option and we'll include the tissue paper and ribbon in your box so that you can wrap it when you're ready and still get the same beautiful, polished look. Read on for more info on each option…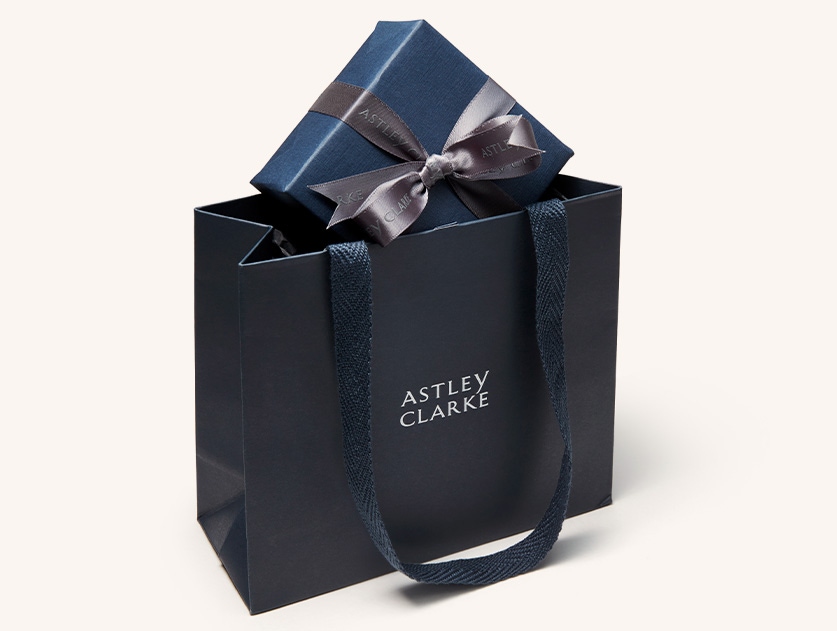 Gift Wrap
Choose this option for £5 and your gift will arrive with you ready to gift. Your piece will be nestled in its pouch within a presentation box, beautifully wrapped in tissue paper and finished with ribbon. Your gift bag will also be included in the delivery box ready for you to simply pop in your gift and go.

Beautiful gift packaging doesn't have to cost the planet, with our recycled RPET pouch and ribbon as well as our new glue and metal-free presentation boxes and inserts, meaning everything is fully recyclable. Our printing process is also more sustainable than ever and everything is handmade right here in the UK, meaning fair working conditions and a reduced environmental impact.
Gift Wrap at home
This option is £2 and means your gift wrap will be posted to you along with your box so that you can look at the piece before wrapping and gifting it. You'll find your jewellery in its pouch within a presentation box with tissue paper, ribbon and gift bag included.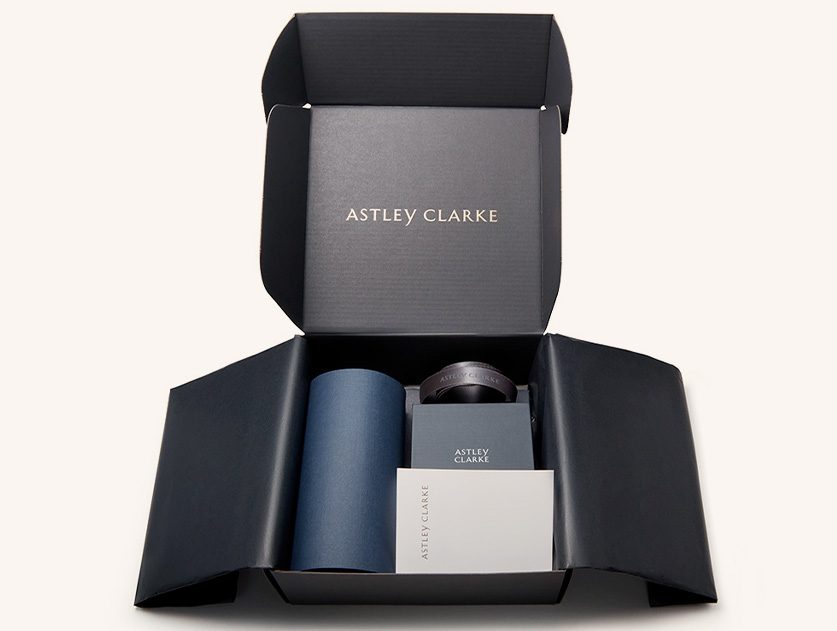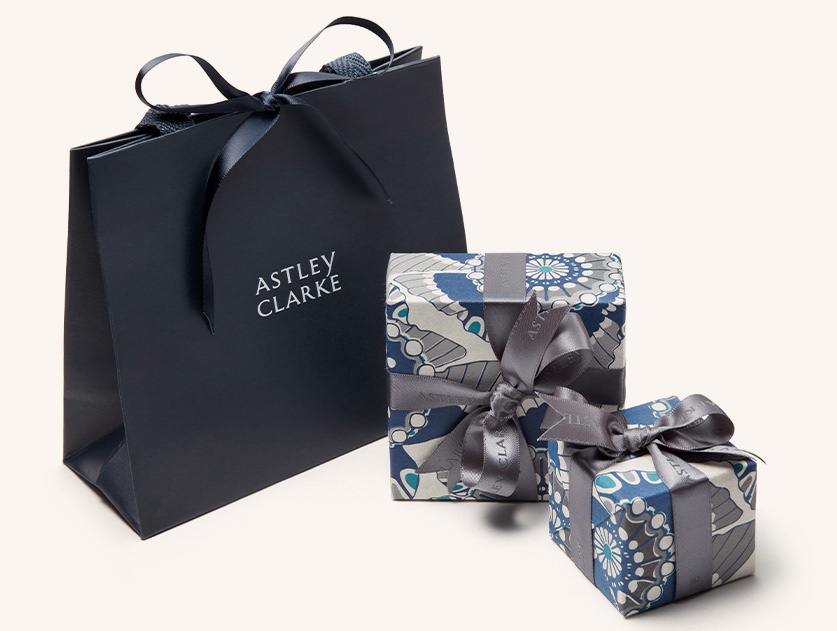 Fine Gift Wrap
If you're purchasing fine jewellery and choose the gift wrap option, we will automatically upgrade your tissue paper to our very special (and eco-friendly) screen-printed by hand Japanese paper, all finished with a satin bow. You can even include a personalised message for your loved one as a thoughtful finishing touch.
How To
Once you've chosen your gifts, go to your basket and select Gift Wrap Options.
Select Gift Wrapping or Wrap at Home and enter your gift message, if you'd like to include one.
Select Update to add your selection to the basket and we'll take care of the rest.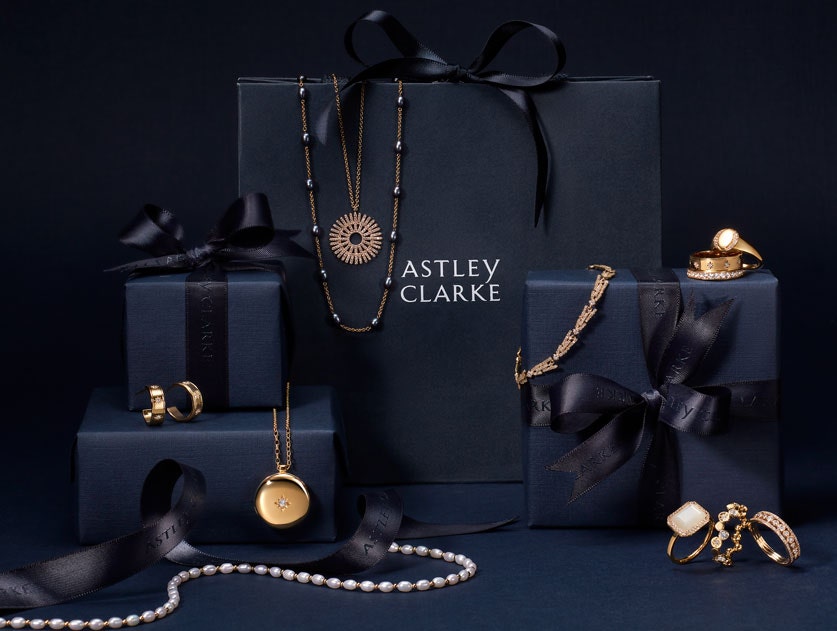 ★★★★★
"Absolutely stunning piece. Bought it for my partner's birthday and it looks great. Thanks for such good service too... and the gift wrapping paper!? Where did you get that? Really a class act."

Glen B.
Got any more questions? Just drop us a note at personalshopper@astleyclarke.com