Ear cuffs are the perfect way to add some pizazz to your stack
We have spoken before about the unstoppable Rise Of The Single Stud and our obsession with mismatch earrings, but if the thought of paying a visit to your local piercing studio fills you with dread then we have the answer. You simply need to be introduced to the wonder of the ear cuff.
Designed to hug the curve on the outside edge of your ear, ear cuffs come in many shapes and guises but the one thing that remains true is that they usually require no piercings at all.
A fresh take on the hoop earring, the ear cuff is becoming one of our favourite summer accessories. The epitome of versatility, the ear cuff comes in a range of different shapes and styles and doesn't require any piercings giving you free reign over how you wear it. Meanwhile the simplicity of the ear cuff means it can be easily paired with stud, hoop and drop earrings.
What is an ear cuff?

For anyone who has read this question and thought the trend started with those cheap, silver bands popular in the 1990s worn by anyone who hadn't managed to persuade their mother to allow them to get their ears pierced (No? Just us then…), think again. The first ear cuffs were actually found in burial sites in the British Isles from around 2000BC and were called kaffas. These brass adornments had a metal loop to hang over the ear with a design that sat below the lobe. They were relatively unadorned, which could have suggested that there weren't ceremonial or special but worn by anyone. By contrast, those worn in Asia around 1200BC and also in Greece around 350BC were definitely designed for showing off just how much money you had. These ornate designs were made from precious metal and set with gemstones such as pearls – a sure sign of status.
The idea of ear cuff, or kaffa, as status symbol continued through the 17th and 18th century. Portraits from the period show diamond-, ruby-, or sapphire-set designs curling flower-like around ears; as much a demonstration of wealth as the beautifully stitched gowns or accompanying servant. To find the genus of the substantial ear decorations often seen on the red carpet today, you need look no further than 1950s America. The USA didn't suffer the way Europe did during WWII, so the post-war landscape was significantly more prosperous. Women, once again, wanted a way to show off their wealth and having diamonds dangling from two lobes just wasn't enough. French jewellery designer Marcel Boucher had an idea. Along with his future wife, Sandra whom he had poached from famed jeweller Harry Winston, he created the Earrite – a decadent diamond-set ear cuff that snaked around behind the ear with motifs designed to either hang below the lobe or sit dramatically on its tip. His creations were a huge success with the likes of Marilyn Monroe and Carmen Miranda being photographed in his designs. Comedienne Lucille Ball also frequently wore them on her hit show I Love Lucy.
The 1980s and early 1990s saw the ear cuff adopt a more punk persona, thanks to interpretations from Alexander McQueen and Jean-Paul Gaultier. However, by the mid-to-late Nineties, it had been reduced to a cheap silver accessory to be worn with Heather Shimmer lipstick and a Nirvana t-shirt. Then, suddenly around 2013, fine jewellery houses, keen to appeal to a younger audience, started experimenting with ear cuffs and crawlers. Grandes dames of the fine-jewellery world known for creating very traditional suites were devising opulent designs reminiscent of 18th century Russia that were prime red-carpet accessories for young A-listers such as Jennifer Lawrence. And the ear cuff's popularity hasn't waned since. From dainty diamond-set hoops to enormous extravagant creations, this forgotten piece of jewellery has become a wardrobe staple.
Why are ear cuffs so fabulous?
It's the epitome of versatility. An ear cuff comes in a range of different shapes and styles and doesn't require any piercings giving you free reign over how you wear it. Wearing an oversized design is such an easy way to make a statement and doesn't have the ear-lobe pain factor that chandelier earrings do. Also, if you opt for a simple style, it can be easily paired with stud, hoop, and drop earrings. It's piece that really allows you to express your jewellery personality without having to submit to the piercer's needle.
How to wear an ear cuff?
If you opt for a hoop style, the hardest thing about wearing an ear cuff is simply learning how to put it on. If not put on correctly, ear cuffs can be quite uncomfortable or may not be secure enough and could fall off. Avoid this by finding your best fit with this method that works with any ear cuff. First slip the cuff over the thinnest part of your ear, which is usually at the top and then slide it down to where it sits comfortably and securely. Then add more for a stylish stack. For larger looks, you just hook over the top of the ear, make sure everything's in the right place, and head out looking phenomenal.
And there you have it, embracing the love for a well-adorned ear without a needle in sight. Feeling inspired?
Shop our Ear Cuffs
. We've picked our favourite ones below.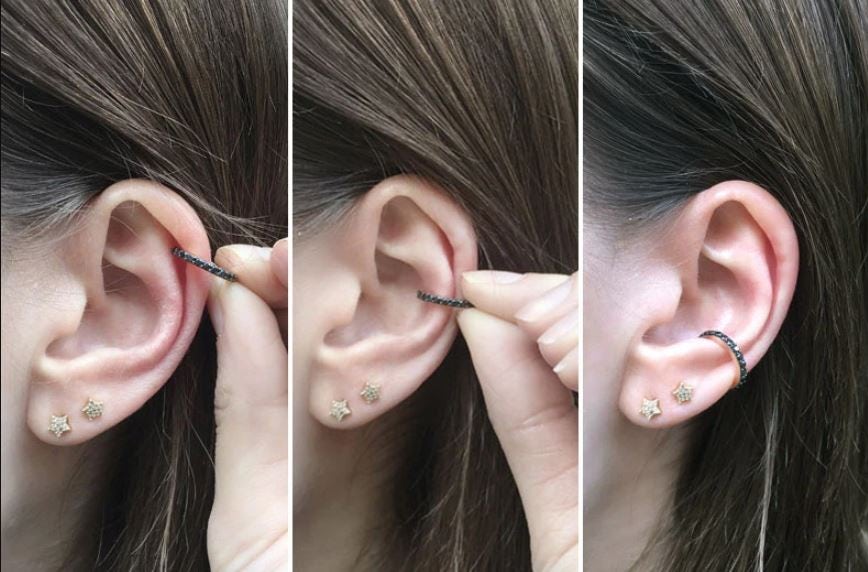 What are you saying about our ear cuffs?
I never take my Mini Halo ear cuff off – I sleep in it and wear it under my moped helmet and it has never budged or bothered me

LOVE LOVE this ear cuff. I've been toying with the idea of a piercing for a while but then decided against it as this ear cuff gives the look of a piercing without the commitment! It stays in place, is super comfy, and looks gorgeous. Totally love it. I didn't have piercings, so I wanted to try a cuff to see if it looked good and also if it irritated my ear. Luckily, I scored on both, I almost forgot it was there, it was so comfy, and I love the look. I will buy a few more now I'm confident they work well and won't fall off.
Gorgeous! Looks great stacked with silver or rose gold and is comfortable to wear.
Great quality ear cuff and a good fit! Don't need to worry about it falling off and losing it.