---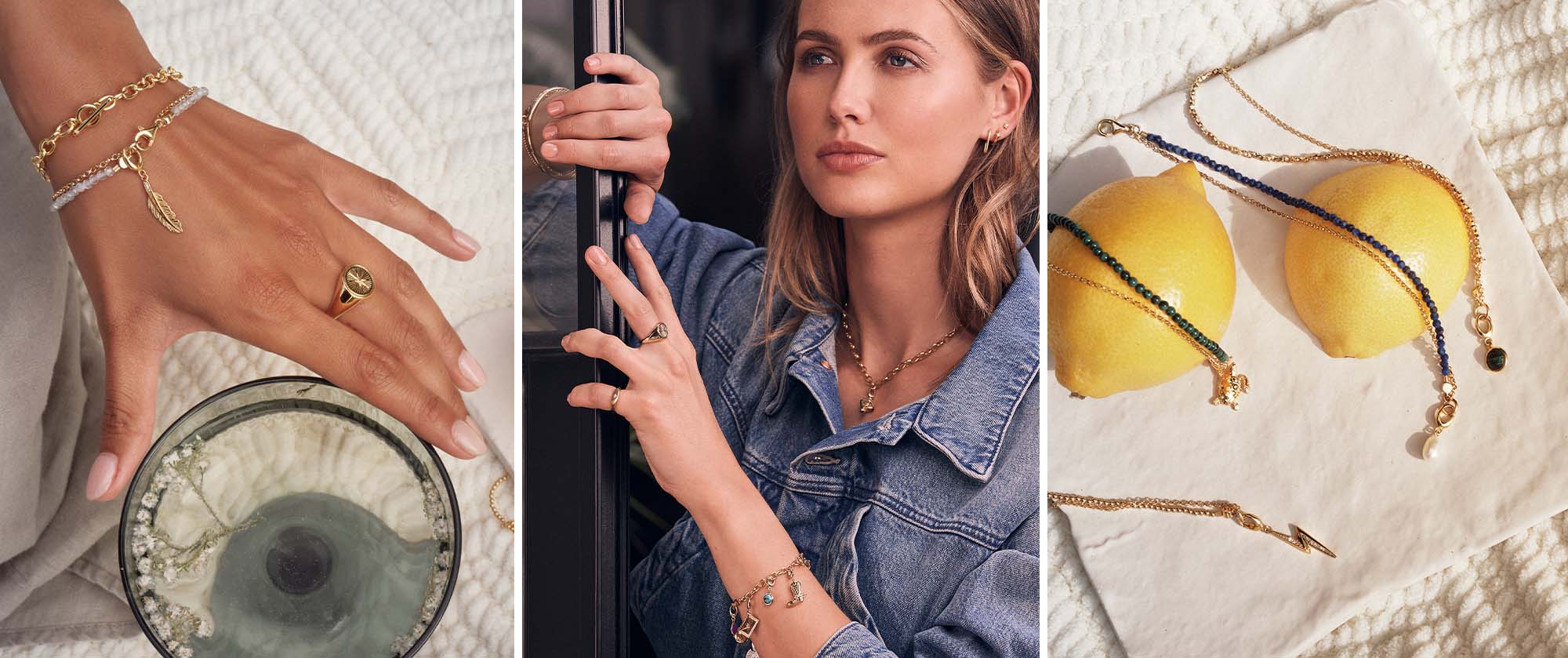 Our charm jewellery is all about telling your story. From birthstones and alphabet charms to unique motifs and talismans, creating your own charm bracelet, necklace or earrings is the perfect way to celebrate what's meaningful to you. Go chunky with our range of heavy-weight chains and T-Bars and stack those charms sky high. Or choose to wear charms alone or in pairs for a delicate look on a dainty chain. It's totally up to you.

---
CHOOSE YOUR JEWELLERY TO GET STARTED
1. Choose your base from necklaces, bracelets or earrings.

2. Pick your charms. Simply click on the + signs to add to your piece. Note you can only select up to three charms on the Charm Builder but you can add as many as you like to your chain. Just add them to your basket along with your finished piece.

3. Add your personalized charm jewellery to your basket (don't forget any additional charms) and ta da! A beautifully-crafted, totally unique piece to treasure.
---
Gemstone Charms
Beautifully colourful and specifically cut to show off their light-reflective properties, our signature gemstone designs are sure to brighten days. Malachite, rainbow moonstone, Lapis and many more precious pieces await, ready to bring a burst of colour to your jewellery collection, each holding its own unique meaning.
---
Initial Charms:
Our new charms collection features a full range of alphabet charms. Ideal for creating a truly unique piece, designed just for you.
Locket Charms:
Our charm lockets feature a birthstone centrepiece with complimentary photo insertion, engraving & free shipping.
Charm Bundles
Not everyone has as much time to dedicate to stacking as we do. With this in mind, introducing ready-made stacks, curated especially for you to help start your collection.
Enjoy a 10% saving with every stack, compared to buying each piece individually.
Charm Symbols
Create a piece that's totally unique with our collection of precious 18k gold vermeil charm jewellery. Tell your story with birthstones, talismans and alphabet charms on your choice of necklaces, bracelets and earrings.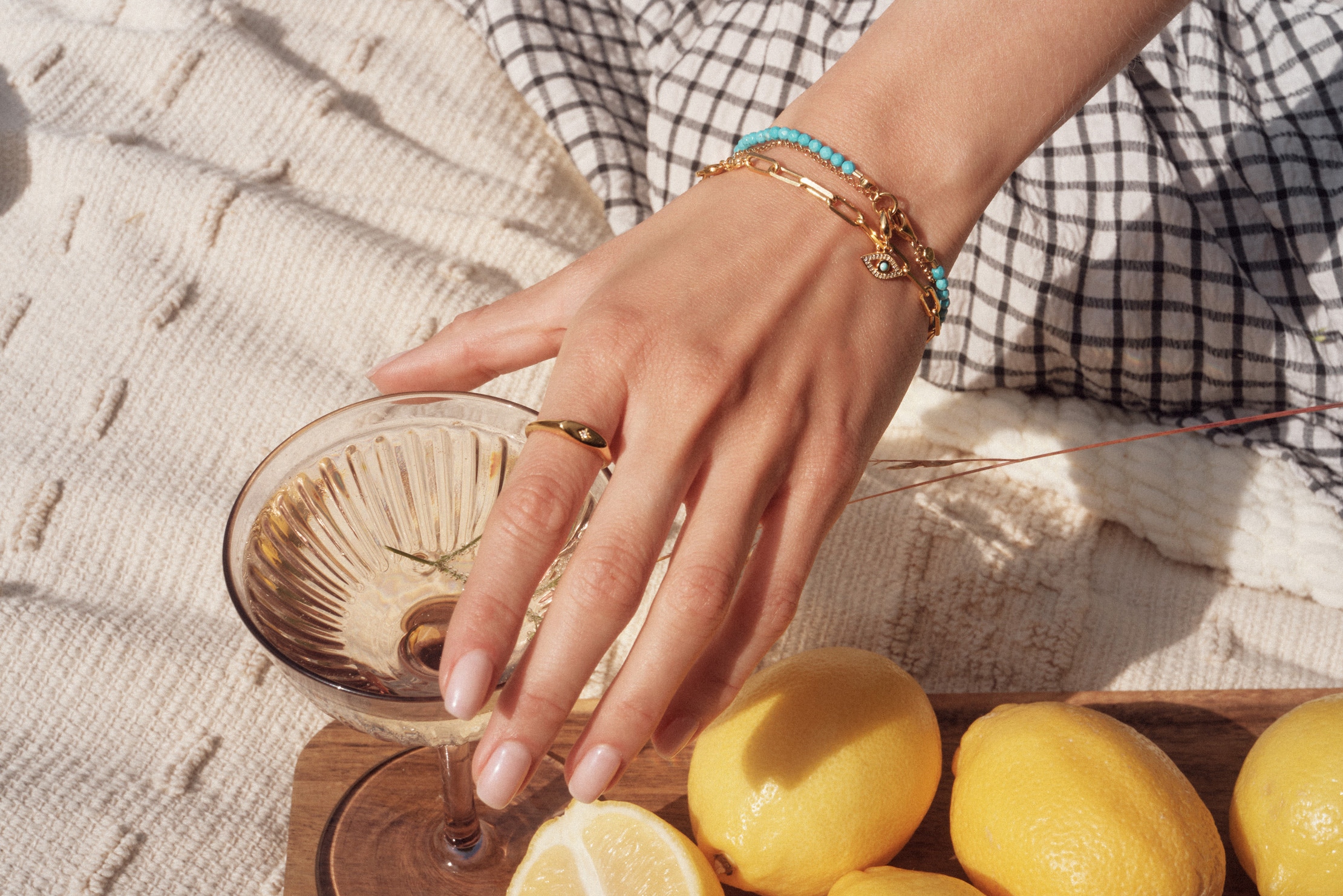 Protection
Get creative with protection charms, available in a range of earring styles, and clip-on options for bracelets or necklaces. With meaningful stones and talismans (evil eye, we're looking at you), build your stack around good energy. Feeling indecisive? You can mix and match your charms every single day to create a new pair of earrings.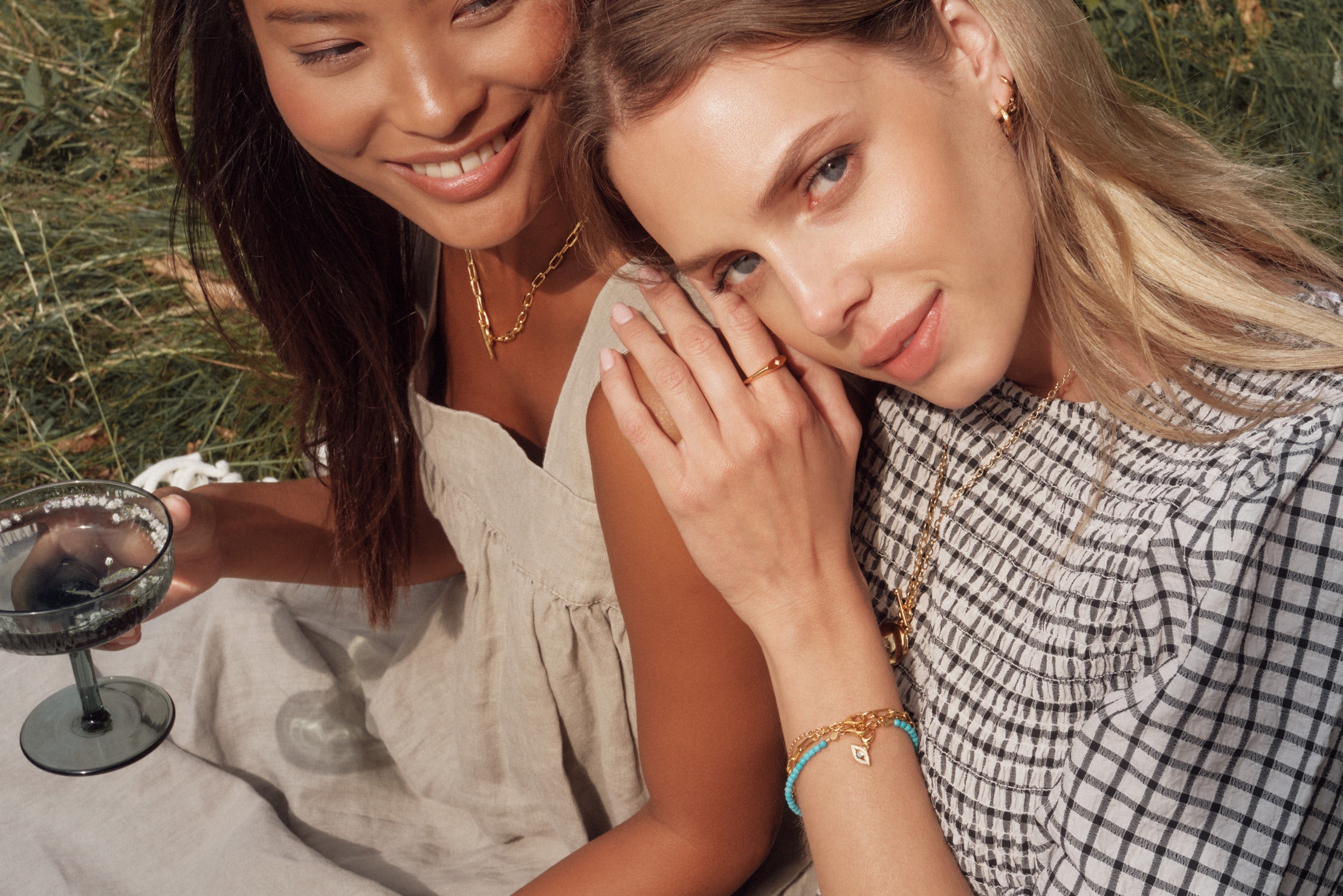 Love
Our 18k gold vermeil charms look just as good layered up on a chunky chain as worn alone. For a simple look, pair your special initial with a pearl or heart or go maximalist and layer up with birthstones, talismans and your favourite sea creature. Cover yourself or that special someone in a selection of charms guaranteed to make them feel the love.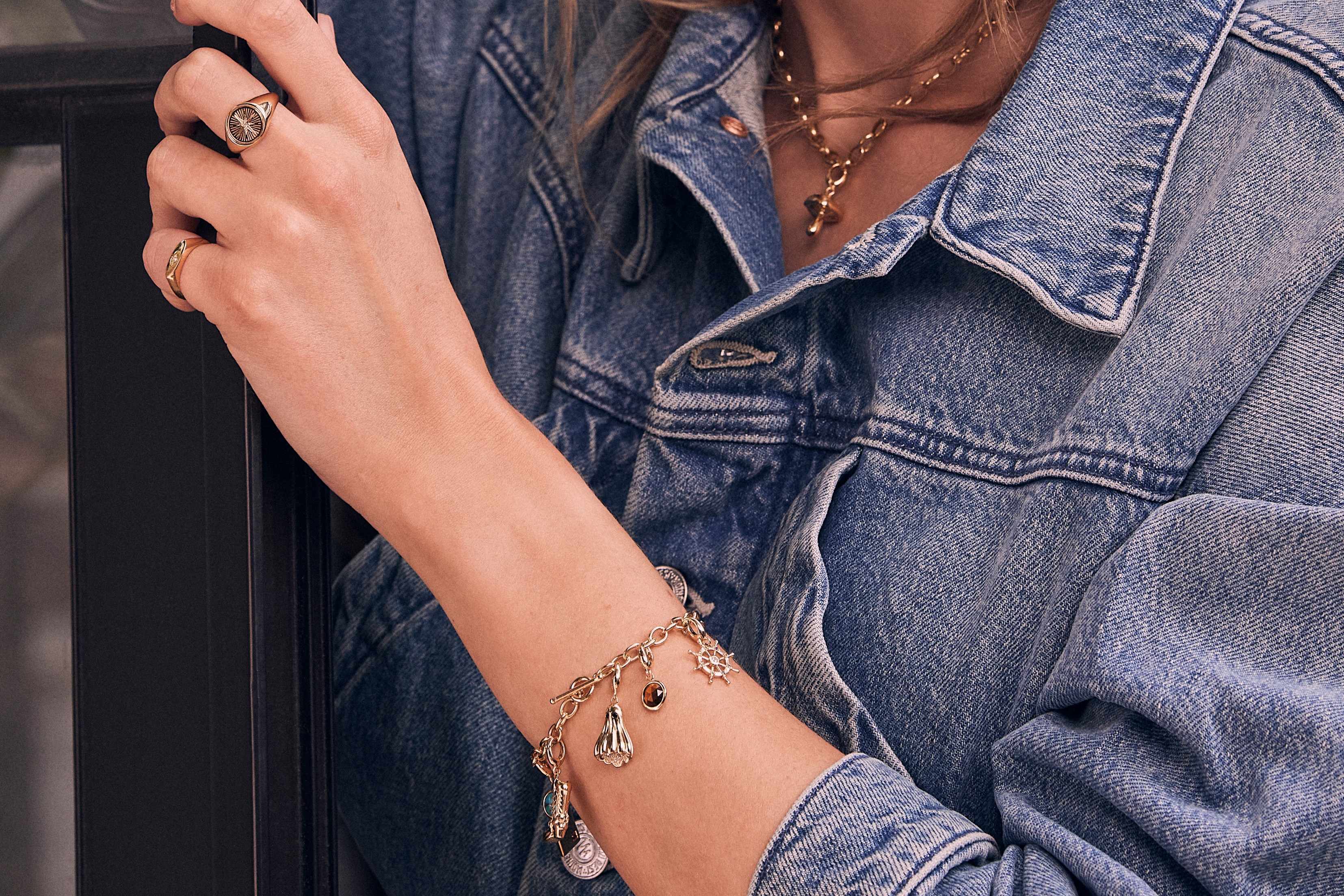 Mythology
Create the stack of your dreams and layer your charm bracelet with our selection of meaningful charms. With a rainbow of sustainably sourced stones, to unique sapphire encrusted symbols and special talisman drop charms; these make a beautifully personal gift or treat.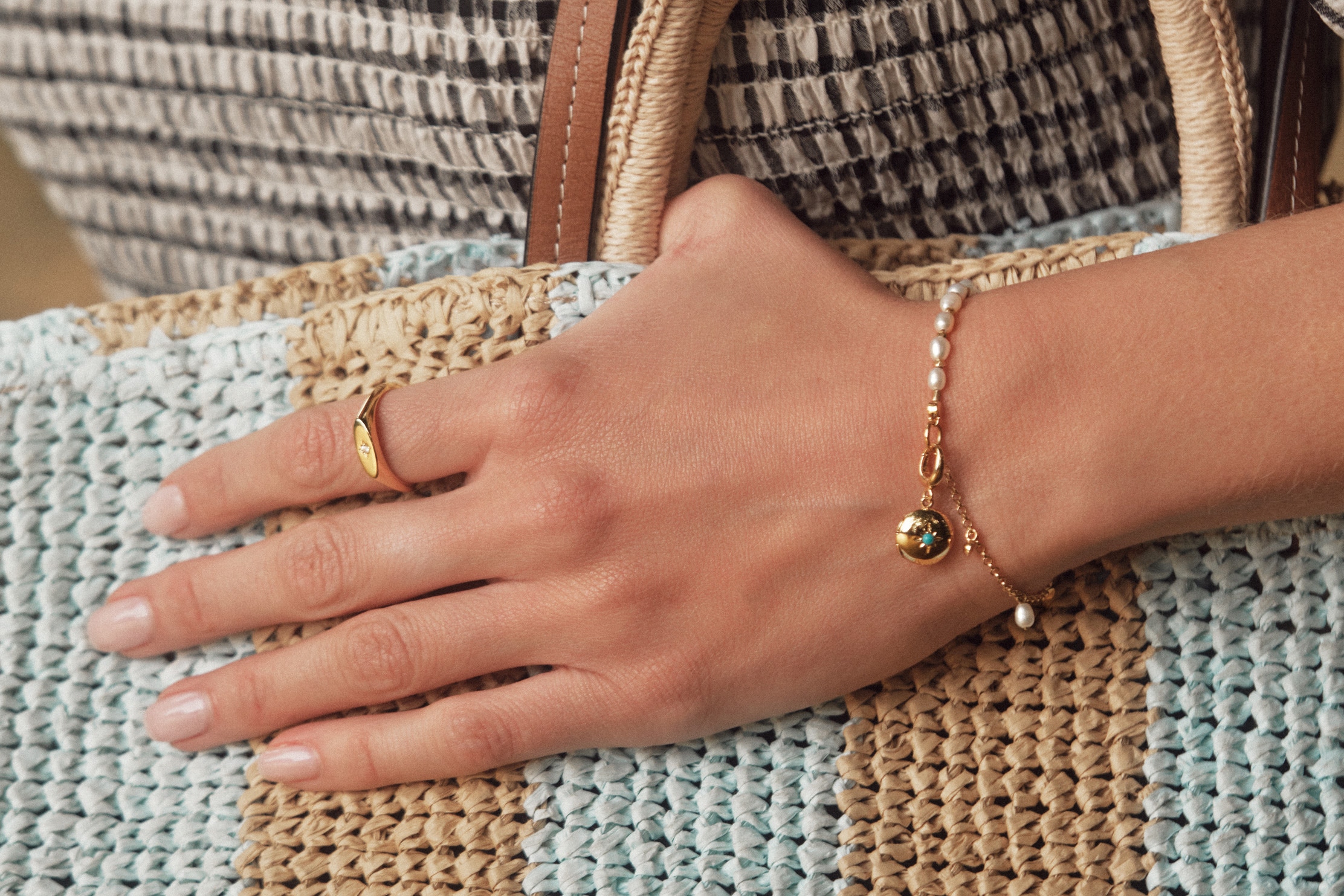 Personalized
Personalize your charm bracelet or necklace with engravable charms. Our birthstone locket charms can be personalized with two of your own images, as well as engraved. The charms collection also features other engravable pieces for that extra special touch.
---