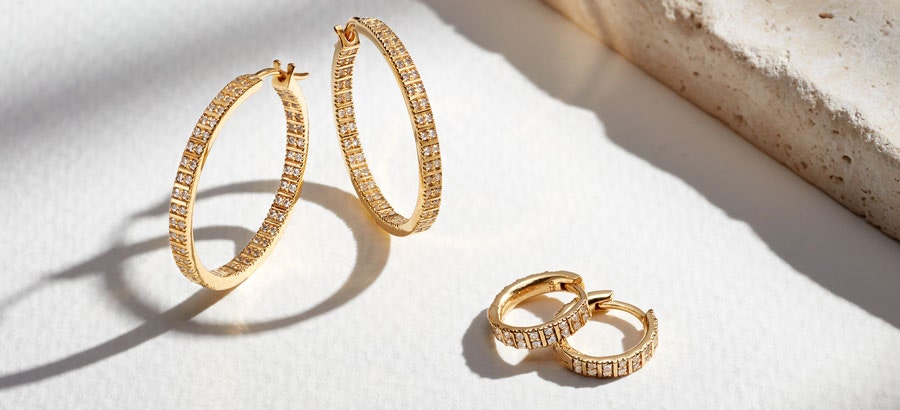 Gold Earrings in Solid Gold and 18ct Yellow Gold Plated
154 Items
Recommended
Price High to Low
Price Low to High
Bestseller
BUILD YOUR STACK
Solid Gold Earrings
No jewellery box is complete without a pair of solid gold earrings Be it tiny studs or statement drops, we love the warming yellow tone and universally flatting hue that all gold earrings bring. Showcasing both 18 carat gold vermeil and recycled solid 14 carat gold, all our fine gold earring styles are stylish, interchangeable and stackable to curate your own look, whether through a mix of stud earrings or a graduated look with our best-selling Linia gold hoops. Adorned with a myriad of vibrant gemstones as seen with our Stilla drop earrings to lend a pop of colour to your look to the more sleek Stilla hoops and ear cuffs, endless experimentation will ensue.
Drop Hoop Earrings
If you're more of a diamond admirer, our Comet collection will make sparks fly featuring statement studs, gold drop earrings and showstopping hoops, inspired by comets soaring across the night sky. Radiant in princess cut and brilliant cut diamonds, these earrings will leave a lasting impression both inside and out of your jewellery box.
Gold Earrings for Women
When it comes to gold earrings, one is never enough. Solid gold earrings with diamonds and yellow gold vermeil with gemstones make a selection that is truly refined and utterly collectable. More is more when it comes to our collection of gold earrings. Available as fine and demi-fine, jewellery options, our gold rings have the power to update even the simplest of looks with a refined polish and beautiful attention to detail.