With not one birthstone but three, lucky Leos and Virgos get all the choice when it comes to birthstones. Here's the lowdown on August's birthstones including how to wear and gift them.
WHY DOES AUGUST HAVE THREE BIRTHSTONES?
August babies get more choice than most when it comes to birthstones. The original stone of August was Sardonyx, dating way back to Ancient Roman times. Ranging from amber to bright green in colour, it was often confused with Peridot - a dazzling green stone - and so the second birthstone was adopted. More recently in 2016, Spinel was added as an alternate birthstone in order to update the list for more contemporary tastes. Et voila! That's why August has three beautiful birthstones to choose from - and our responsibly-sourced gemstone jewellery is the perfect way to do it.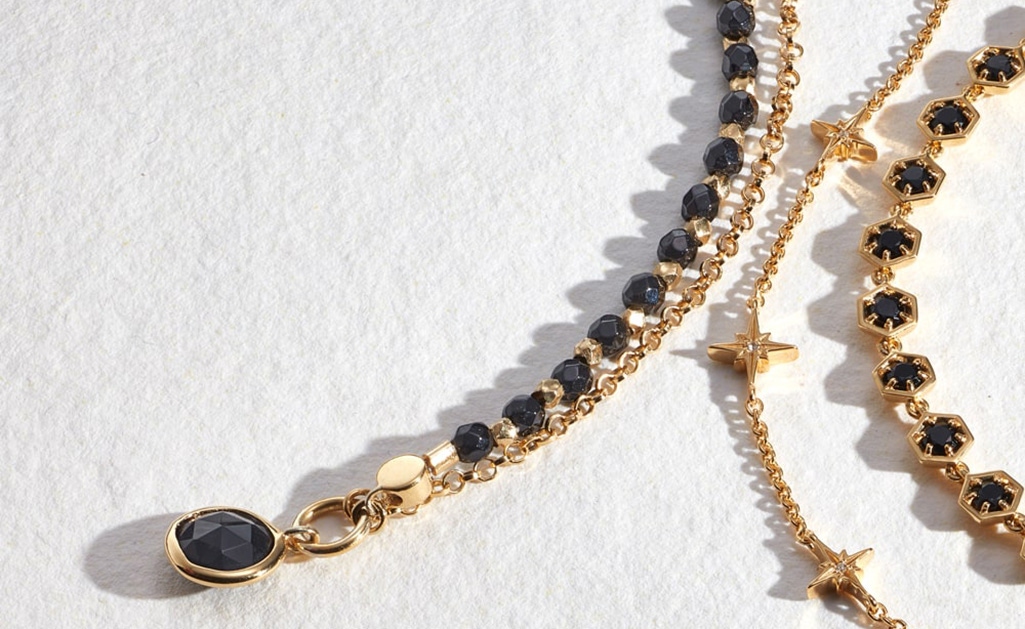 ---
WHAT DOES SARDONYX SYMBOLISE?
Sardonyx has been used as a stone of strength and protection since Ancient times. Associated with courage, happiness and communication, it's a powerful stone that has long been used by warriors and soldiers as a symbol of bravery.
---
WHAT DOES PERIDOT SYMBOLISE?
Peridot is a rare gemstone that only occurs in shades of green, from the deepest olive to the palest lime. It is the only stone other than Diamonds that is formed in the Earth's crust, making it highly unusual. The Egyptians called Peridot 'the gem of the sun' and it is often associated with good fortune, prosperity and emotional healing. Because of its dazzling green, Peridot makes the perfect birthstone gift for lovers of colour.

WHAT DOES SPINEL SYMBOLISE?
One for those in need of positivity, Spinel is associated with inspiration, innovation and optimism. Spinel is one of the few gemstones that comes in every colour of the spectrum, from strong, deep shades of black and red to pale pastel yellows, pinks and lilacs.
WHICH AUGUST BIRTHSTONE SHOULD I CHOOSE?
It's totally up to you. Sardonyx, Peridot and Spinel are all August birthstones, so if there's a colour or element of symbolism that resonates more with you or your friend, that's the one. Or mix it up and wear all three!
ALL OF ASTLEY CLARKE'S GEMSTONES ARE RESPONSIBLY SOURCED
We're committed to being a responsible, environmentally-conscious brand. We have long term relationships with a small number of expert suppliers, all of whom are Responsible Jewellery Council (RJC) certified. This means responsible business practices from mine to retail for all our gemstones, supporting international standards, improving ethical, social and environmental conditions and supporting local communities. This means all of our gemstones are responsibly and sustainably sourced. Read more about our sustainability.
OUR PERIDOT BIRTHSTONE JEWELLERY PICKS
Our Flare Collection combines beautiful Peridot with other precious stones and vibrant enamel for statement pieces like no other. We love the Flare Marquise Cut Bracelet with Peridot and hot pink enamel, finished with a delicate 18ct gold vermeil chain. Or if earrings are more your thing, these Pear Cut Triple Studs are birthday showstoppers with lots of meaning.

Looking for something personalisable? Our new engraveable Peridot Birthstone Locket Charm is the perfect personalised gift. We love the sterling silver which really makes the Peridot sparkle, plus it holds a message and two photos which we will print and fit for free. Our bestselling Biography friendship bracelets are the perfect pairing for a charm. Want to see how it looks? Use our Online Charm Builder.
HERE'S AN AUGUST BIRTHSTONE FACT
Did you know Papakōlea Beach in Hawaii is also known as Peridot Beach? This is because high levels of the stone's main mineral component Olivine are found there, creating an amazing expanse of green sand like no other. August babies, one for the bucket list…
OUR SPINEL BIRTHSTONE JEWELLERY PICKS
One of our favourite ways to wear August's more contemporary birthstone - Spinel - is in black. Black Spinel goes with everything, making it super chic and the perfect gift. Our top picks include the Polaris Star Pendant Necklace and matching Station Bracelet for delicate, keep-forever style. Or this dainty Deco Eternity Ring in Black Spinel is a piece they'll wear every day - and a foolproof gift.

If you're looking for something extra personal, our engraveable Deco Slice Locket might be just the thing - holding a photo and message for the perfect meaningful gift.
WHAT ARE BIRTHSTONES?
Each month of the year is associated with a stone with different properties. The first mention of birthstones comes from way back in the Book of Exodus. Stones were first associated with the signs of the Zodiac and then months of the year.
Way back when, it was thought that wearing each month's stone during that month would bring specific properties to the wearer. Although we like this theory (any excuse to wear more jewellery) in modern times people generally wear their own birthstone throughout the year.
Inspired to gift some meaningful jewellery to a loved one? Or maybe a self-love treat to say happy birthday to you? You can shop birthstone jewellery here and do drop us a line on personalshopper@astleyclarke.com if we can help.