Our
sterling silver rings
are meticulously crafted from 100% solid sterling silver, every piece of Astley Clarke silver jewellery is created to last a lifetime.
This five-star rated jewellery is perfect for wearing, layering, gifting and enjoying every day. The perfect meaningful jewellery gifts, all silver lovers can find new favourites amongst these wearable, statement ring designs.
For the best silver linings, look no further - we take particular care to design each piece with secure clasps, strong settings and wearable silhouettes you'll never want to take off.
Meet Millie
This sterling silver Mille Beaded Ring takes inspiration from the traditional jewellery technique of millegrain and features a continuous band of tiny beads. Let this decorative, demi-fine piece add elegance and edge to any occasion by stacking with other fine silver rings.
Why not sit it on top of our disc stilla ring, offering an instantly effortless and relaxed look. This demi-fine Stilla Disc ring is luxury for the everyday. Crafted from solid sterling silver, each disc is rounded on the inside of the band, for a completely unique design that is perfect for stacking and wearing your way, with other gemstone and textural rings.
In order to make bold and unique style choices that go with silver, try layering by wearing several silver necklaces of different lengths and a few rings and bracelets. By stacking rings on both hands you create a unquie, enviable showstopper!
BLACK & SILVER
In the past, the fashion police would say you shouldn't wear silver with gold jewelry together or mix in colored gemstones with your silver.
However, colored stones can actually bring a very unique twist to your silver jewelry.
While black and gold is the more obvious combination there is an intriguing punk energy about the mix of black onyx and sterling silver. The dark glitter of the gemstone next to the lustrous shimmer of the sterling silver makes this a seductive addition to a stack.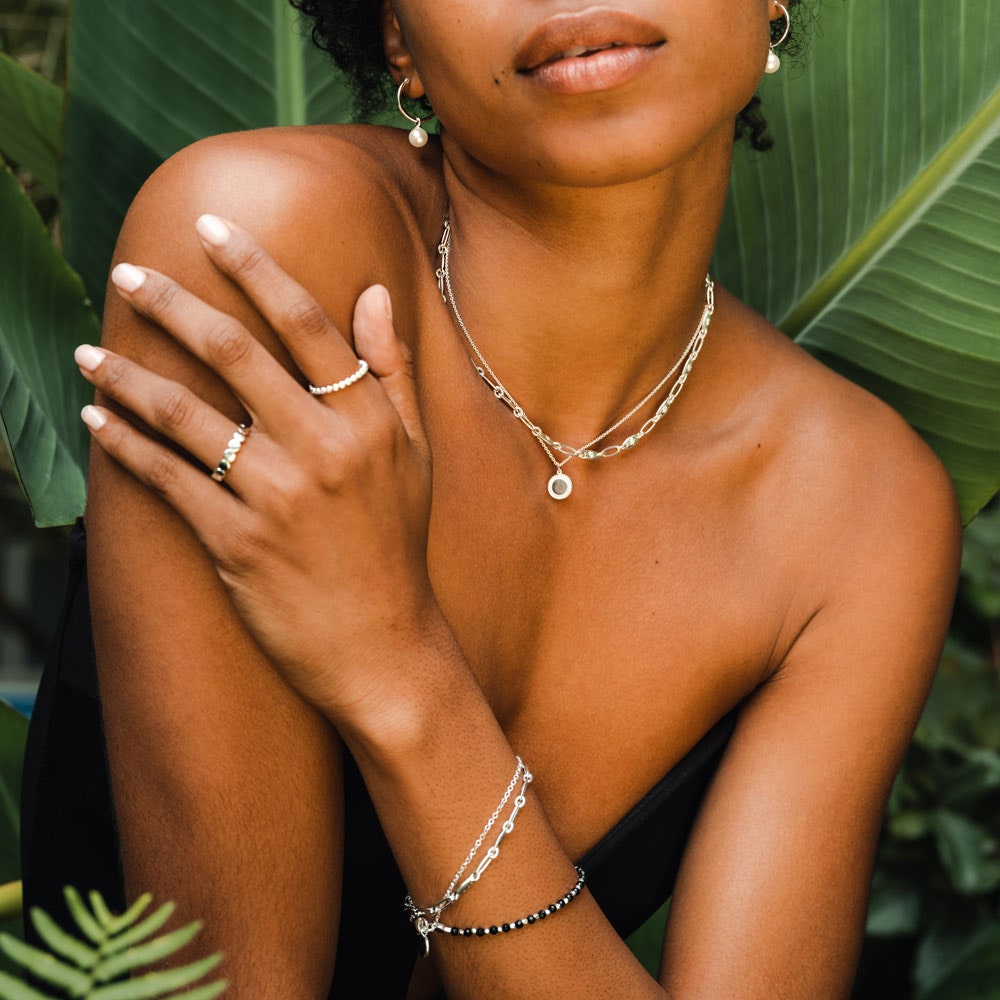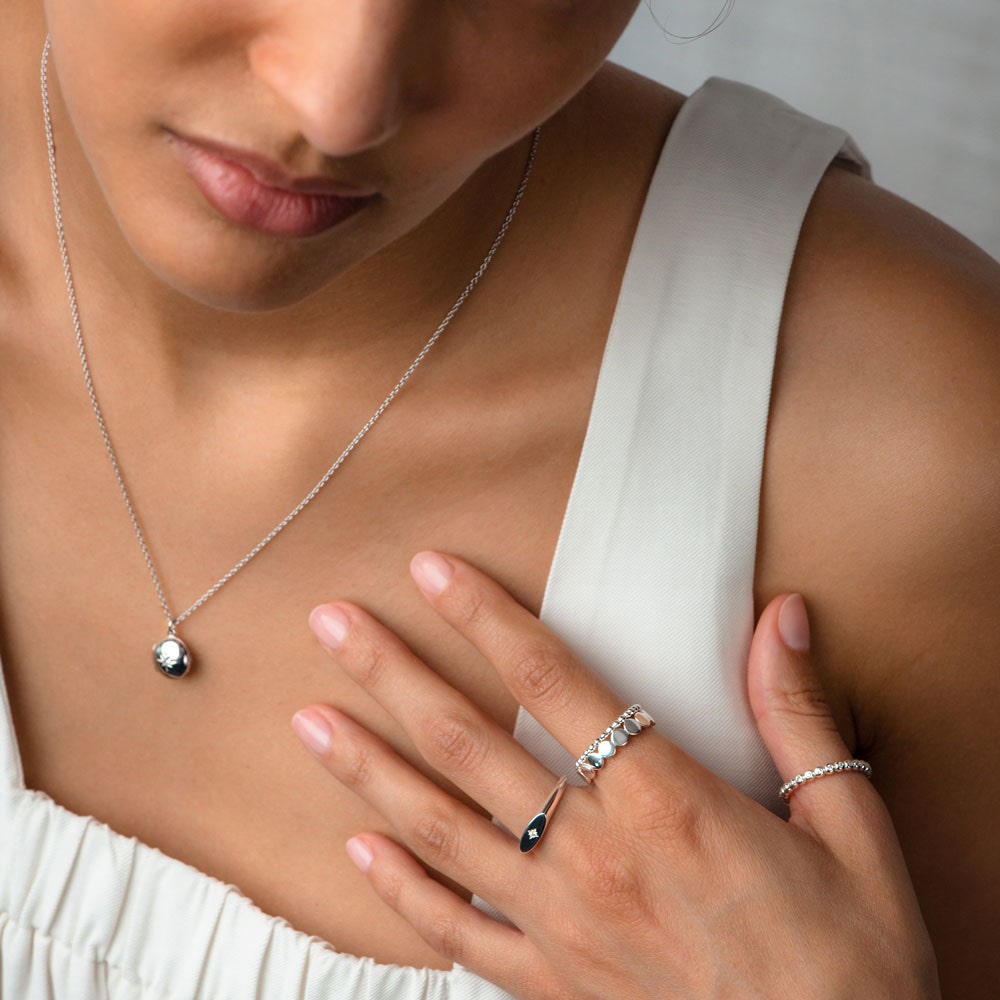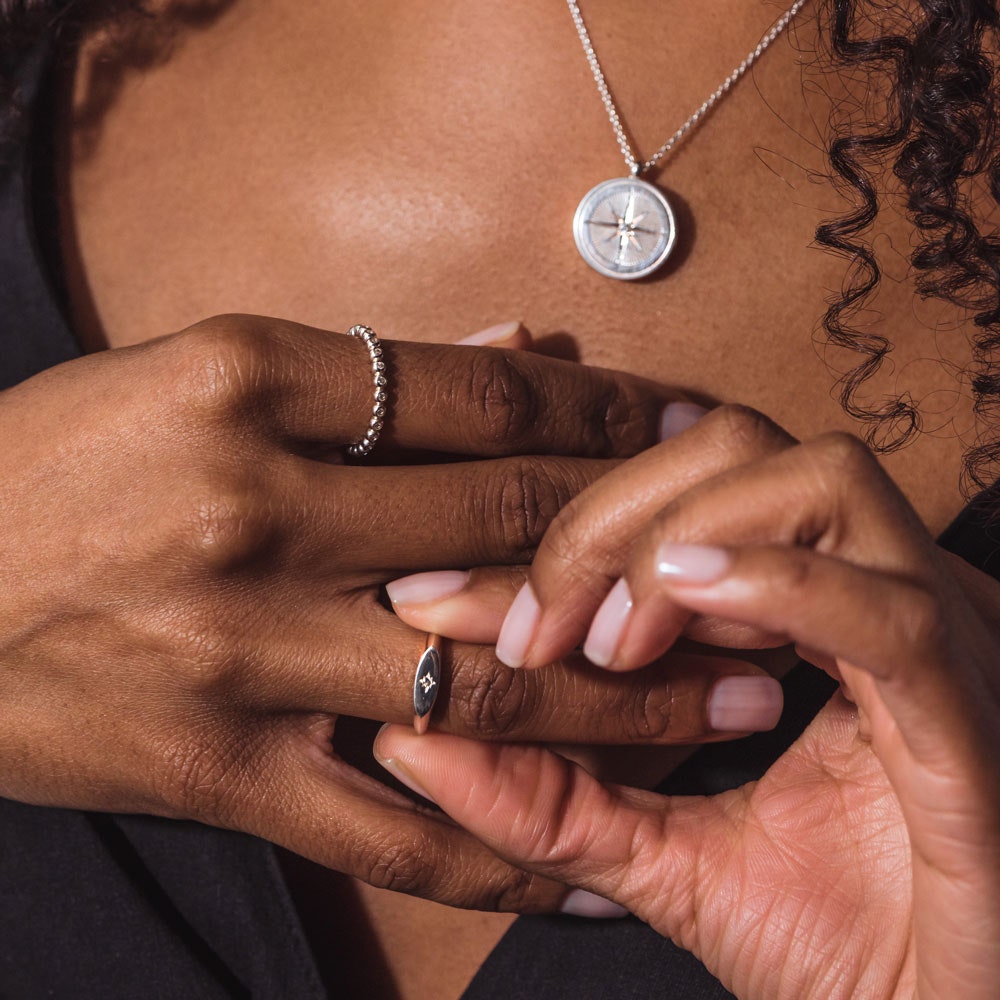 The Signet Ring
The Silver Celestial Orbit signet ring is a sleek and refined stacking ring perfect for everyday wear.
Signet rings were traditionally worn on the pinky finger, but we've never been one for playing by the rules. Although this classic position creates the ultimate nostalgic jewellery look, and the perfect way to spread out the sparkle on your hand, we've discovered even more ways to style your signet.
Feel free to clash, mix and match your gold and silver metals, gemstone and enamel colour, or alternatively, stack two signets together on one finger for a powerful statement.
---
Discover Deco
Taking the traditional kula bracelet to another dimension. A faceted curved sterling silver bar in keeping with the hexagonal silhouette of the Deco collection and an adjustable nugget fastening for effortless styling. It looks great alone but even better in a stack.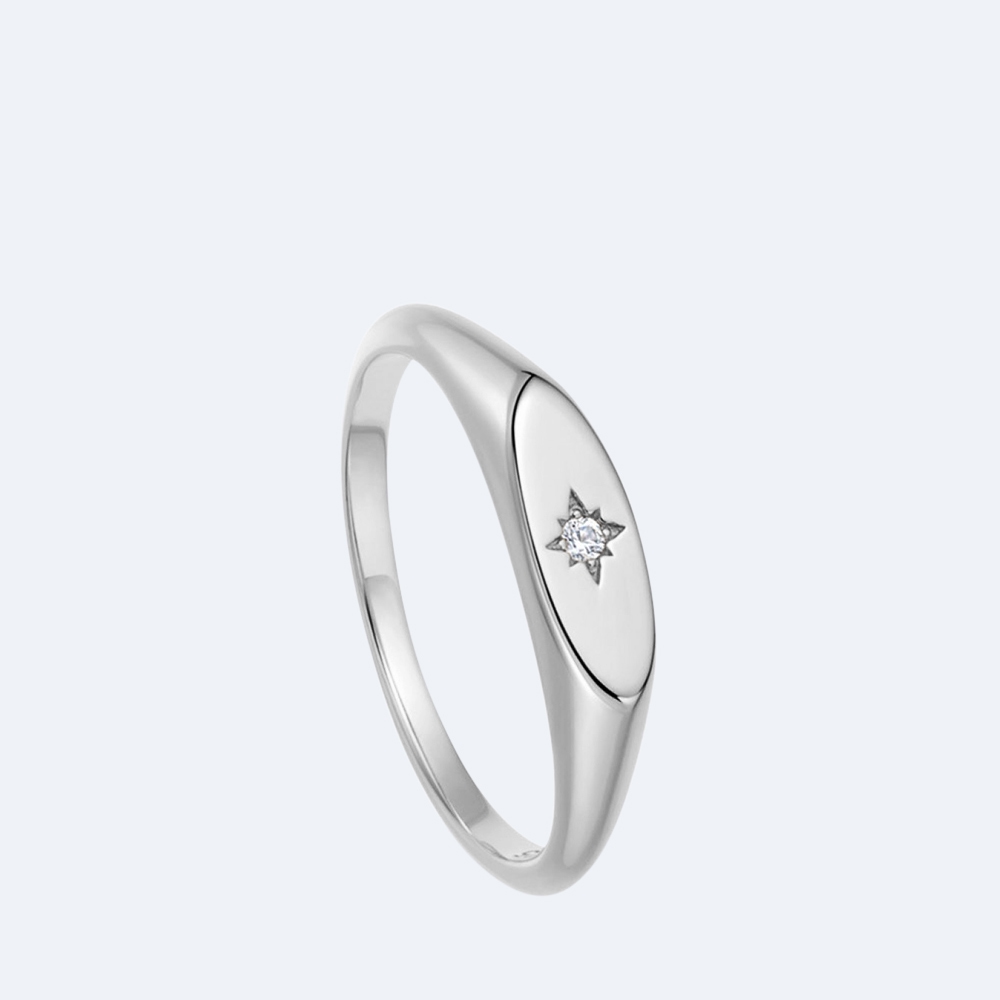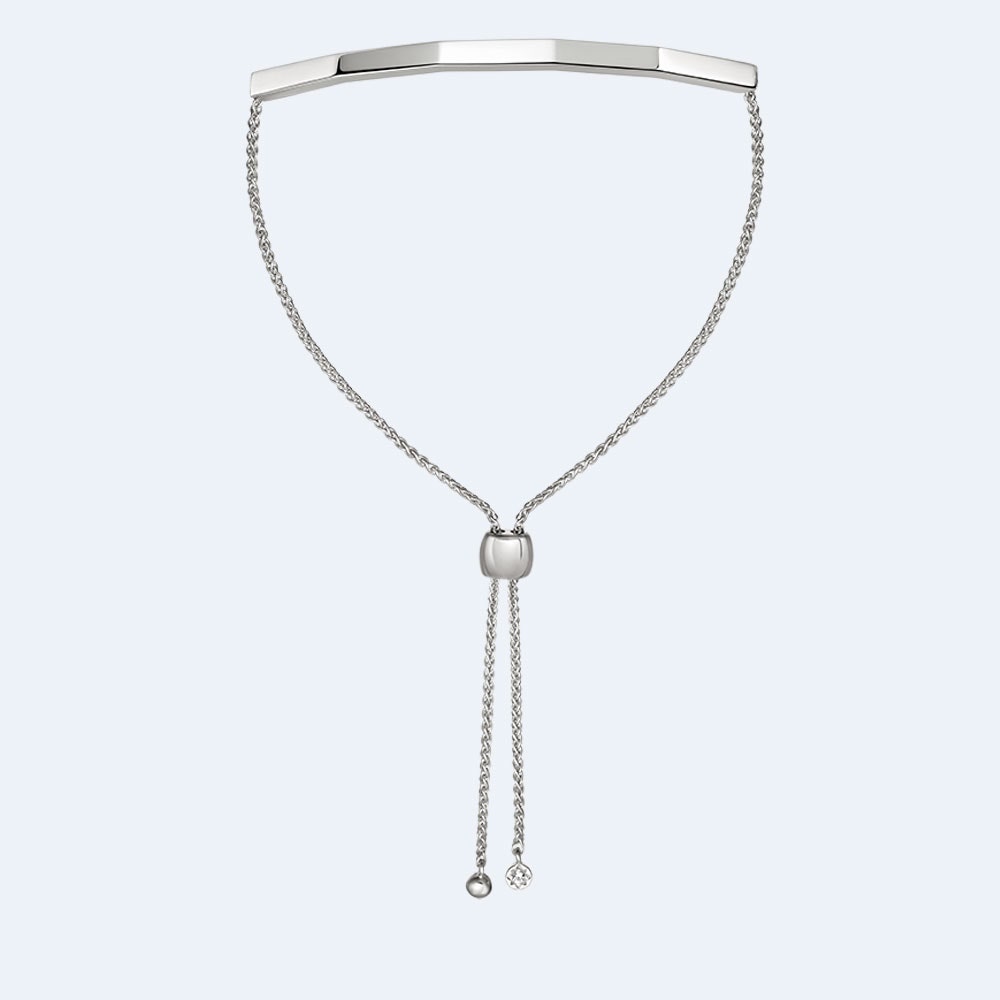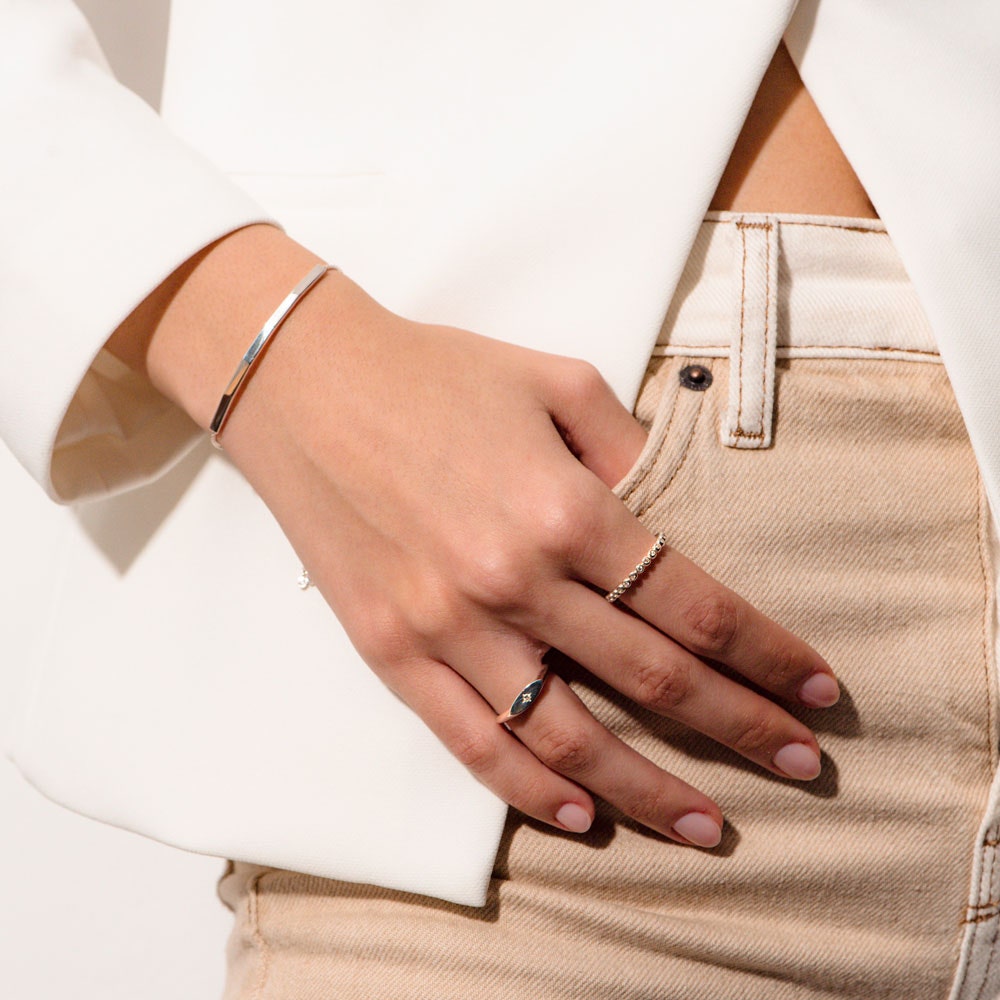 EXTRA SPECIAL
Make a 925 statement with monochrome styling. Whether it's your go-to LBD or LWD (the summer alternative), watch how an AC locket in shiny silver adds lightness to your look for the ultimate cool-girl vibe. Pair with black biker boots and an all-season leather jacket for that rockstar edge. For a mood of liberated confidence, choose a bright white power suit. The sleek combination of tailored shoulders paired with a sterling locket will give you redefined executive realness.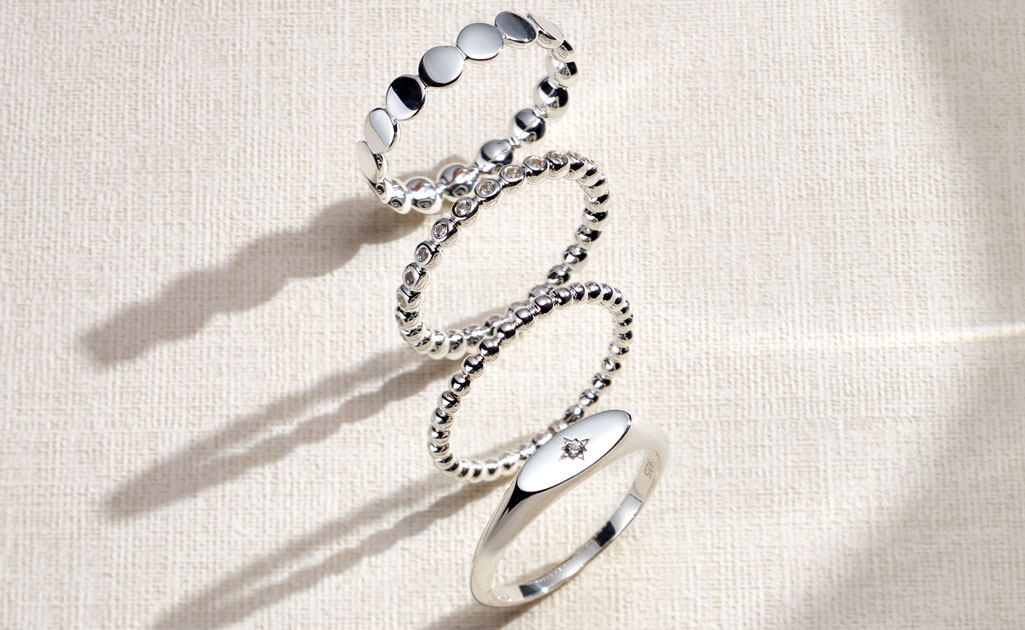 ---
LAID BACK DENIM
Although silver is always versatile, wearing the right colors is essential in ensuring that your jewelry stands out! The best color to pair with silver rings is black as it creates a beautiful contrast. A denim blue or burgundy are also colors that also look stunning with silver by creating a rich background for your jewelry to shine against.
SILVER SAPPHIRES
This Stilla Arc Eternity Ring is an enduring design that makes an elegant yet playful statement. Crafted from sterling silver, the versatile ring is composed of delicate beads that have been intricately hand-set with white sapphires to add a touch of relaxed opulence.