Get passionate with ruby, the birthstone for July, the gemstone for red hot romance, and the perfect colour pop for the height of summer. Learn more about this delicious, deep red gemstone as we dive into its history, meaning and AC's favourite jewellery styles.
Ruby's heritage
Universally, from ancient times to now, cultures have valued rubies as luxuriously special. Rewind to ancient civilisations, ruby was worn as a talisman to help protect warriors in battle. It's also said to be the symbolism behind Dorothy's protective ruby slippers in The Wizard of Oz. Cute!

Rubies were also thought to banish sorrow, restrain lust, and resist poison, and legend has it that people who wear rubies will live a life without fear of bad luck and evil. At Astley Clarke, we're all about good energy, and we know you are too.
Ruby's richness
Best known for its majestic and mesmerising hue and representing passion and prosperity, rubies are often found as small stones. Anything over 10 carat is incredibly rare, and the most valued rubies are those that are the deepest red.
Ruby is formed when the mineral corundum is mixed with chromium to create its unique rich red colour. Most corundum jewels are classified as sapphires, but ruby's deep hue required a distinctive name of its own. Mined in Sri Lanka since the 8th Century BC, ancient Hindu and Burmese miners believed that colourless or pale pink sapphires were rubies, which were yet to ripen.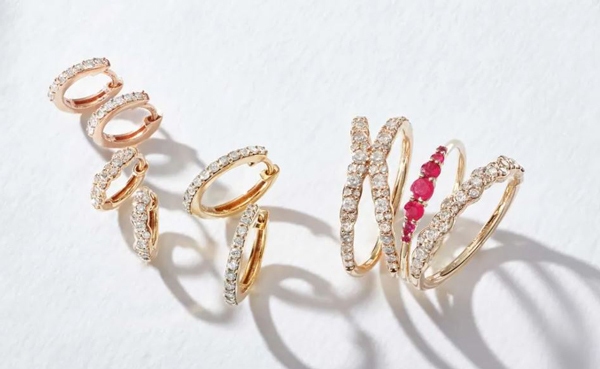 ---
Wearing Ruby
Ruby is a standout gem, that's why we've paired this stone with 14 carat solid yellow gold and even pave diamonds. From rings, bracelets, necklaces and earrings, we're proud to say that our ruby and diamond pieces are also ethically sourced, cut and polished by hand.

Whether you're going all out in hot red or looking for a more subtle way to empower your outfit, our ruby jewellery styles serve to elevate your everyday. Not to mention, these are timeless pieces designed for generations, and even your next heirloom. Our favourite? The Hamsa Biography necklace in Ruby (and the matching bracelet of course). The Hamsa symbol represents 'protection' and is centred with a ruby – we guarantee you'll feel the power.



---
---
July's Birthstone ruby is also used to commemorate 15th and 40th wedding anniversaries. Besides this, there's always a time to celebrate this extraordinary stone. It's the perfect jewellery gift for someone you love and the perfect gift for your own jewellery box. Because, well, you deserve it.