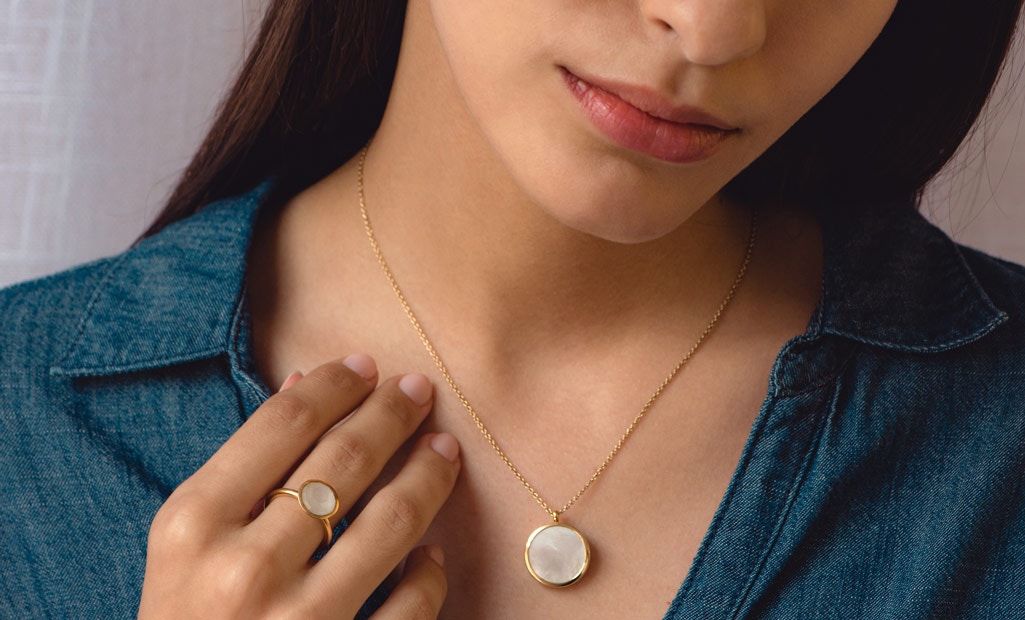 Moonstone has an unusual glow caused by light scattering between the mineral layers from which it's made. It's an effect that calls to mind the play of moonbeams through a thin curtain of clouds.
Let this celestial stone shine by pairing it with soft denim in night-sky blue for effortless everyday style.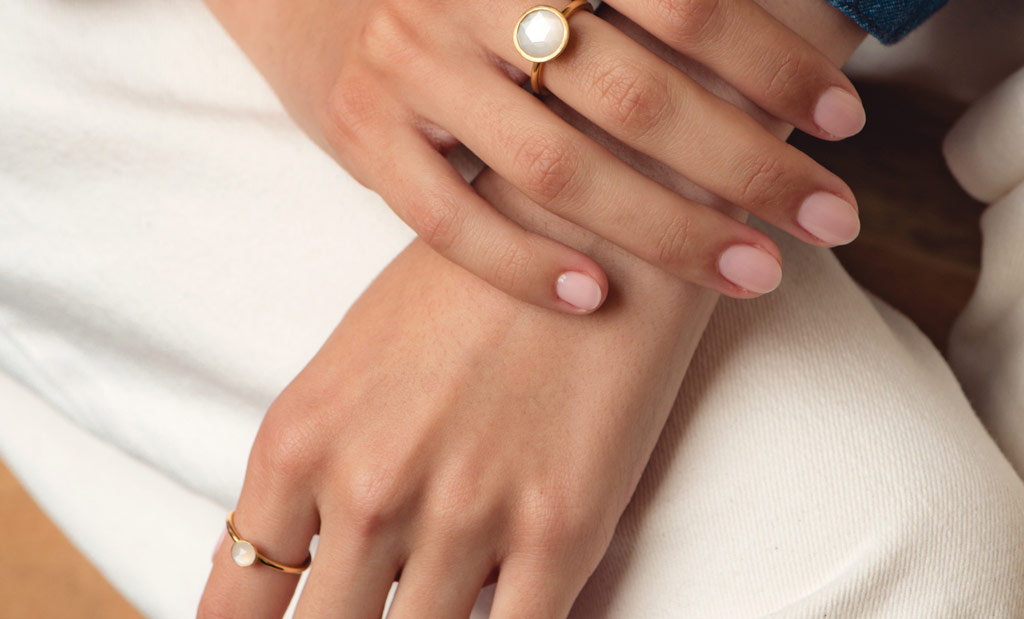 Ancient civilisations believed moonstone was made from moonbeams.
These Stilla rings may not be forged from cosmic light, but their beauty is certainly out of this world.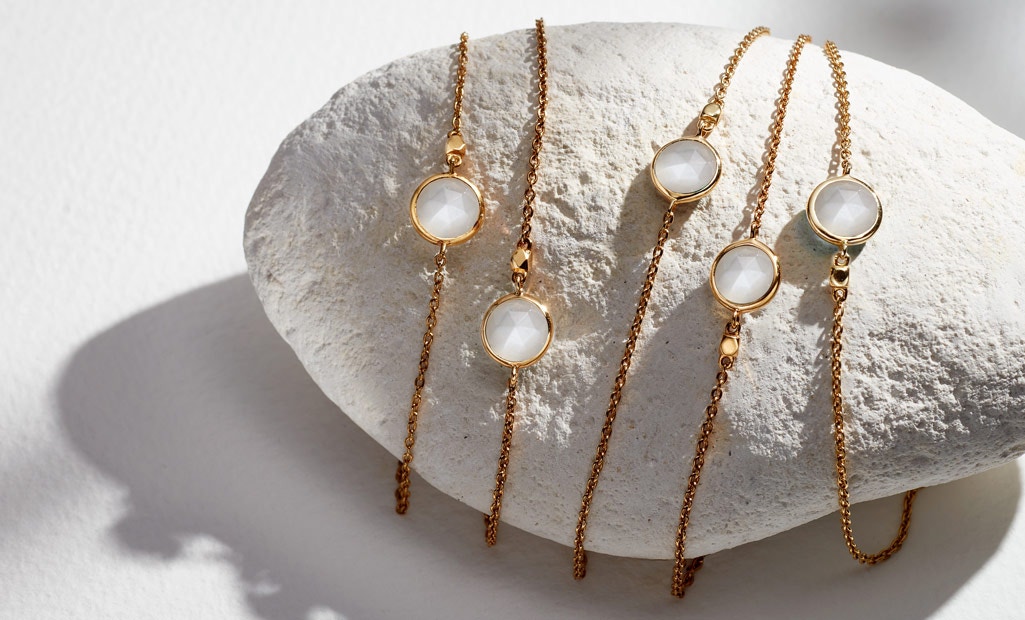 Lunar Magic
According to ancient legend, Moonstone was the stone of the Roman goddess of the moon, Diana. Rumored to be formed of celestial light, Moonstone was believed to bestow love, wisdom and good fortune to anyone who possessed it.
With a seemingly bland appearance at first glance, Moonstone conceals a glowing sheen, known as adularescence, when exposed to light, reminiscent of shimmering moonlight reflecting softly on the surface of the ocean.
The alluring glow of moonstone jewellery became hugely popular in the 1900s and throughout the Art Nouveau movement, in which organic stones with mystical properties were favoured over traditional gems.
With its neutral tones that simply pair with any outfit, it's no wonder that this gemstone is a firm favourite at Astley Clarke - here are a few of our most covetable moonstone pieces from our Stilla and Deco collections to add a touch of mysticism to your wardrobe.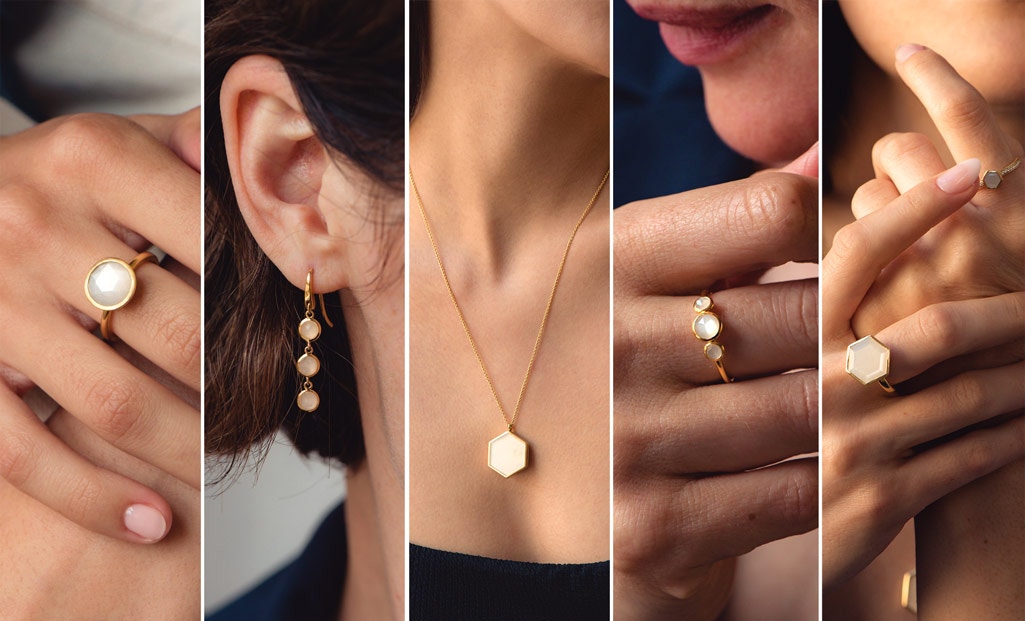 1. Stilla Moonstone Ring:The moon personified in jewellery form, this classic ring features a captivating rose-cut moonstone encased in 18ct gold vermeil. Wear as a solo piece contrasted with an oversized black blazer for a classic monochrome look or stack with other vibrant gemstone rings for a colourful stack.
2. Stilla Moonstone Drop Earrings: Delicate drops of shimmering moonstones faceted in a bespoke table cut to showcase the iridescent qualities of the gemstone; bringing a subtle dose of opulence to your everyday look. Match with a dark denim shirt or add an element of mysticism to a classic LBD.
3. Large Deco Moonstone Slice Locket: Inspired by the Art Deco period and its love of modernist forms, the creamy softness of moonstone works beautifully with the geometric lines of the hexagonal silhouette to create a quietly confident piece of jewellery. Personalise with a photo and engraved message for a memorable keepsake to grace any outfit.
4. Stilla Triple Moonstone Ring: Three graduating gems faceted with bespoke cuts to best showcase the nuances of the mystic moonstones make this ring the perfect statement stacking ring. Contrast the milky moonstone with dark denim for an element of relaxed luxury.
5. Large Deco Moonstone Ring: Strong lines interplay with the subtly romantic moonstone for a beautiful contrast in this statement ring. Perfect as a stand-alone piece or pair with the Mini Deco Moonstone Eternity Ring for an alluring set to transport you effortlessly from day to night.