Our new collection draws inspiration from jewellery of the Victorian era. The collection combines striking gemstones, intricate metalwork and vintage silhouettes with a contemporary update.
SS18: Floris Collection
Drawing inspiration from jewellery of the Victorian era, Astley Clarke presents its new Floris jewellery collection for an SS18 aesthetic that is guaranteed to enchant you.

Abound with opulence and sentimentality the rich aesthetic of this bygone era reigns supreme this season. Here at Astley Clarke we have reimagined the grandeur of the epoch with contemporary designs that give a modern update to vintage inspirations.

An expressive collection of highly stackable pieces, Floris combines striking gemstones and intricate metalwork that reinterprets the decorative technique of millegrain. A playful propostion that is ornate yet modern in its design, this contemporary jewellery collection is refined and easy to wear.
Modern Millegrain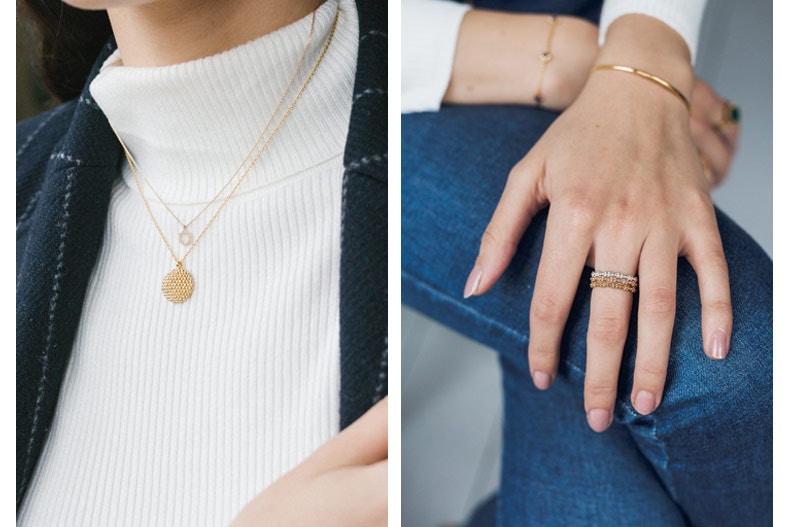 French for 'a thousand grains' the millegrain technique was traditionally used to decorate the edges of stone settings and ring shanks with small light reflecting beads or ridges that added detail to a jewellery piece. Developed in the late 19th century, this textural metalwork effect added a bezel around gemstones and was not only decorative, but also helped secure the stone's setting.

The millegrain decoration became a very popular feature of Victorian and Edwardian jewellery and remained so in the Art Deco design phase of the 20s and 30s. The Floris collection takes inspiration from this ornamental detailing in a way that enriches the intricate metalwork of each piece.

The grainy surfaces of the highly stackable Mille pieces feature rows of decorative beads fashioned in silver and 18 carat gold vermeil to create a modern look that is effortlessly elegant and decisively feminine.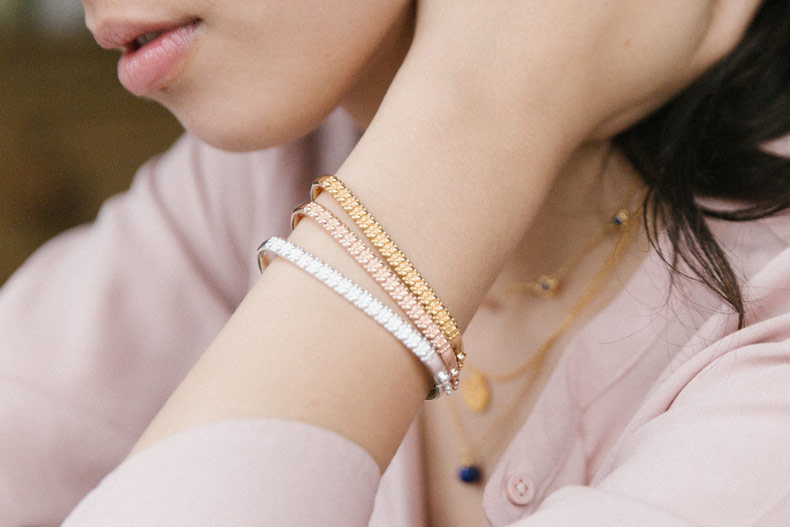 Adopting a slightly vintage appearance the mini Floris pieces include lapis cabochons cast in yellow gold vermeil and framed by elegant beads that are suggestive of tiny petals. This same pattern is repeated across a selection of earrings, bracelets, necklaces, and rings in fun colour combinations of pink opal, turquoise and rose gold.
Floriography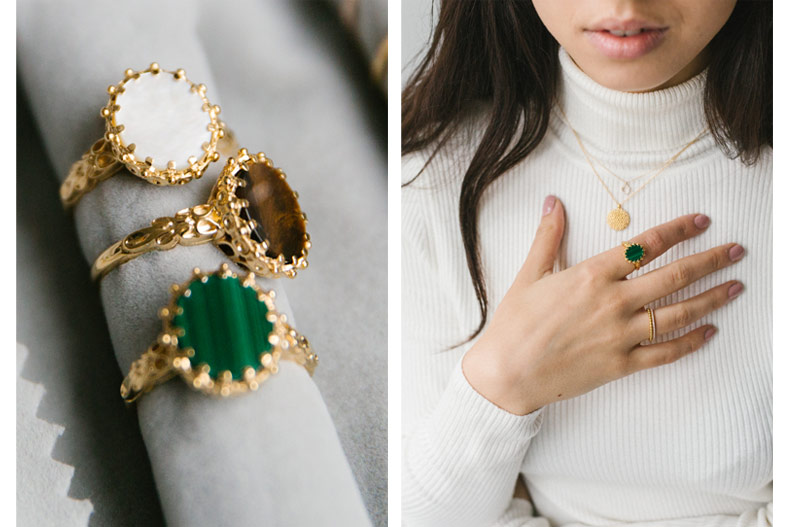 The collection is completed with bold gemstone heroes that are regal yet versatile in their aesthetic. Polished slices of malachite, tigers eye and mother of pearl present colourful modernity and are enhanced by Victorian-inspired craftsmanship. Full of eye-catching appeal these pieces are modern yet nostalgic.

Authentic textural settings cast in 18 carat gold vermeil bring traditional foliage patterns to life. These formations create efflorescent shoulder features in the medium and large Floris rings. Simultaneously striking and symbolic Floris lends itself to another Victorian tradition, the art of Floriography.

Originally a form of communicating through flowers it was widely used by the Victorians to express feelings and sentiments to loved ones that could not be spoken. This added sentimentality makes Floris a perfect treat for yourself or gift for someone special.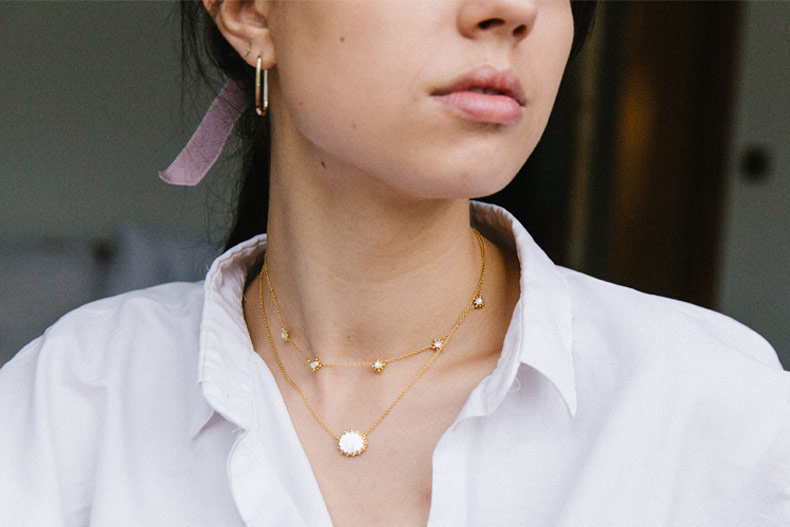 Available in a variety of styles and colour combinations the Floris collection is a stylish accompaniment to Spring's tailored look or casual denim. The pieces also work well as ornate decorations to an evening ensemble. Featuring an array of plain metal and semi-precious gemstones set pieces they are ideal for layering and stacking alongside the Biography and Stilla collections.

Embrace the spirit of the Victorian epoch, done the modern way.
Shop the Floris Collection.