Astley Clarke: What does Eb mean to you?
Mimi: Eb is home. He's my cuddly companion who is always there when I need him and the best walking companion too.

Astley Clarke: What are your favourite moments with Eb?
Mimi: I love coming home after a long day to find Eb waiting for me at the door. He's also super cute when he cuddles up on me. And I'll never forget the look on his face when he saw himself in the mirror for the first time. It would have been one for my locket if I hadn't been too busy cuddling him to take a picture!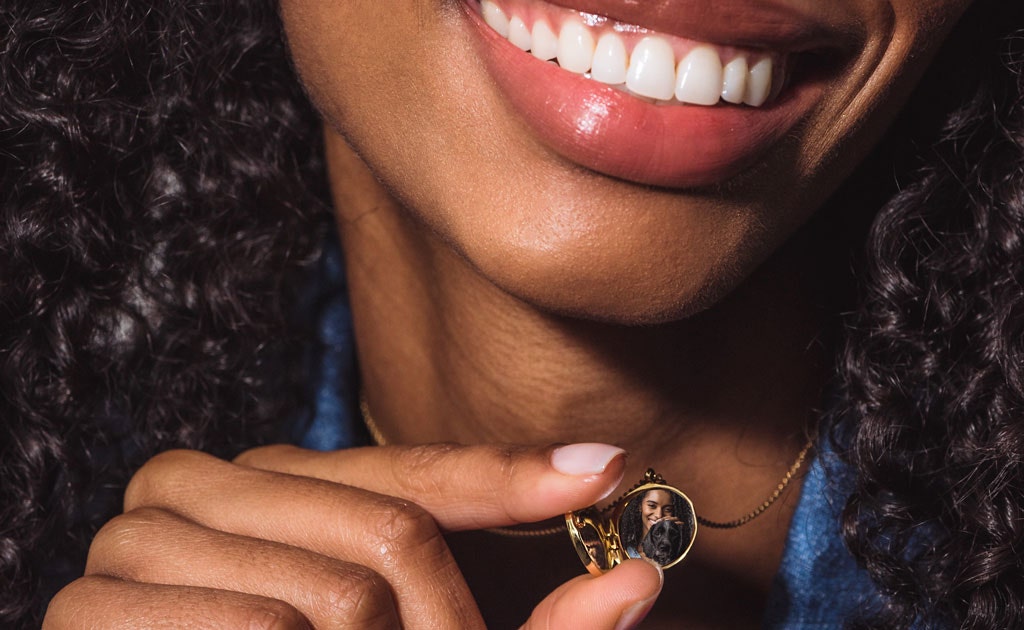 Astley Clarke: If you could describe being a dog mum in three words, what would they be?
Mimi: There are so many wonderful ways to describe being a dog mum, but I'd say protective, comforting, and calming.
Astley Clarke: Why have you chosen this locket and engraving?
Mimi: I chose this locket because of the navigational motif. It keeps me grounded and I can remember Eb, even when he's not with me. He's my home and my heart.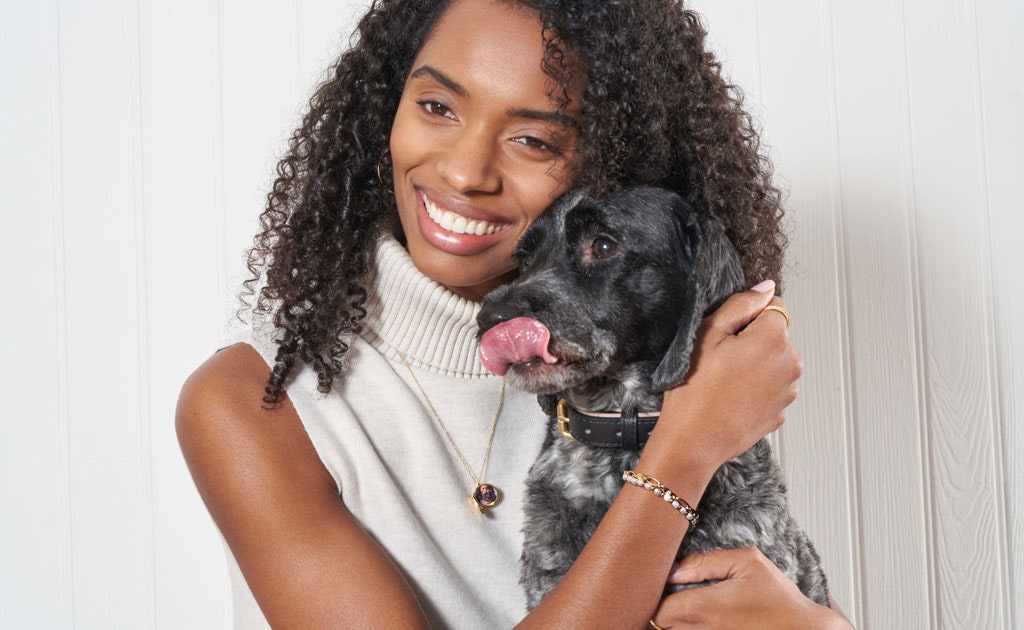 Dinner for two...
From al-fresco dining to brunch, we find the best places in London to take your prize pooch.
Fancy al-fresco dining: Chameleon London, 1 Marylebone Road, NW1 4AQ
Tel: 020 7186 2444
Chameleon describes itself as a "multi-experiential space" – a phrase guaranteed to make most people's teeth itch and probably deter a lot of people from venturing there. What this means in practice is that this grand neo-classical ex-church designed by one of England's most celebrated architects, Sir John Soane, has now been converted into a space that comprises private hire venues and a gorgeous al-fresco courtyard dining space called, also rather cringe-inducingly, God's Garden. Surrounded by lush flora, so lush you could also be in the Mediterranean, you and your beloved canine can enjoy delicious Middle Eastern food, while pretending you're on holiday.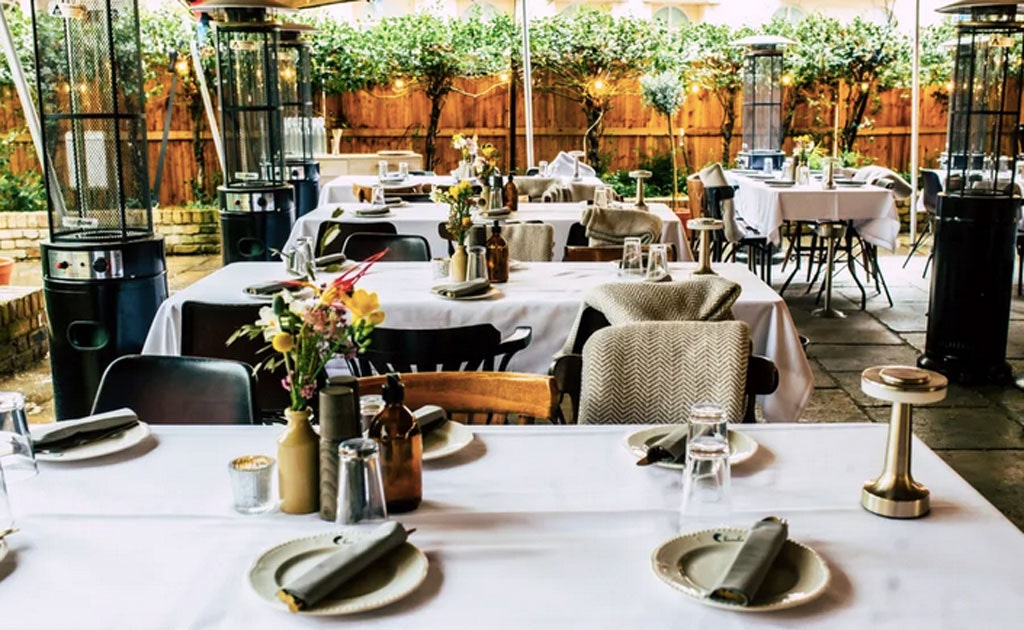 Cocktails: Smith & Whistle, Piccadilly, W1J 7BX
Tel: 020 7499 6321
There are places where dogs are tolerated and those where their attendance is positively encouraged. This is the latter. Not content with slopping a water bowl on the floor for a parched pooch, this establishment, which is part of the Sheraton hotel, actually has a dogtail menu – a permanent drinks list created with your canine companion in mind. There's the Bubbly Bow Wow, which combines dog-friendly prosecco with liquidised blueberries; the Poochie Colada is a blend of kale, broccoli, and coconut water; for the beer lovers, Hound's Hops adds fresh mint to dog-friendly beer, and for the more sophisticated pup there's Ginger Tails – a G&T-inspired tipple that pairs fresh ginger with tonic. And after, Green Park is conveniently located over the road for a gentle post-prandial promenade.
Date night: Brutto, 35-37 Greenhill Rents, EC1M 6BN
Tel: 020 4537 0928
Russell Norman's latest venture Brutto probably serves the most authentic Italian food this side of Florence. Walk through the door and you could easily be in a trattoria nestled in a dark side street far from the tourists of Piazza Del Duomo. There are red checked tablecloths, raffia wrapped bottles of chianti, and a menu of dishes that may not always look the prettiest but that are delicious (the name comes from the Italian phrase "brutto ma buono" or ugly but good). Your four-legged friend will thank you for ordering one of the massive Scottish t-bones, which are listed on a chalk board by weight and lugged over daily from nearby Smithfields market. They'll enjoy gnawing on the leftover bone under table while you indulge in tiramisu and a restorative affogato.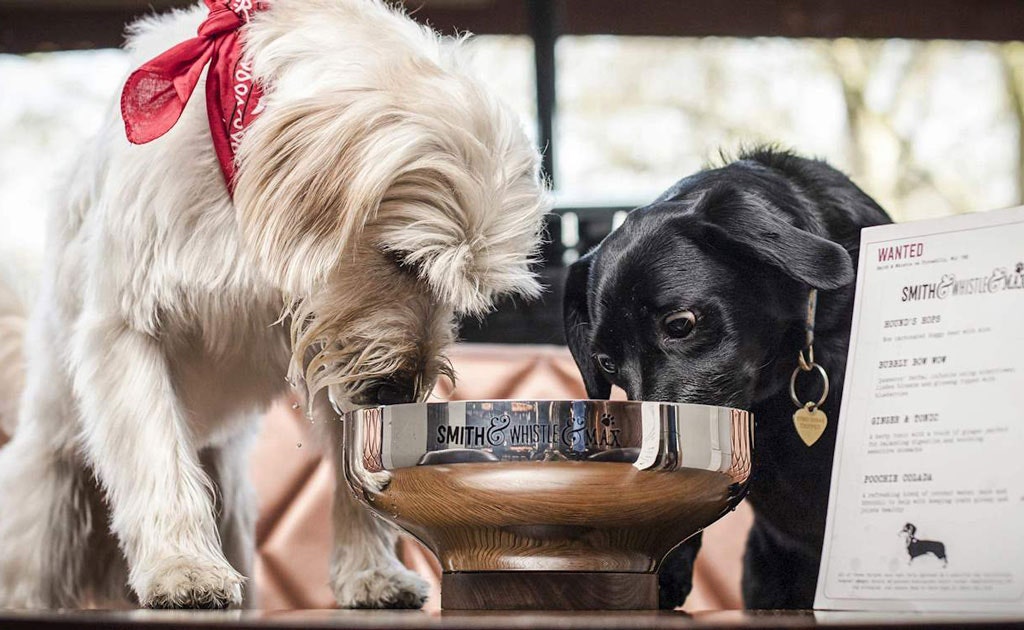 Brunch: M Restaurant, Zig Zag Building, 74 Victoria Street, SW1E 6SQ
Tel: 020 3327 7776
Take your bitches to brunch, literally, with M Restaurant's Six-Legged Brunch Menu. For £35, you and your precious pooch will be treated to a three-course meal. For the two-limbed diner there's brunch staples such as shakshuka, steak, and pancakes, while your four-legged companion is treated to the likes of chicken jerky, biltong risotto, and peanut butter and bacon cookies. A combination that sounds intriguingly appetising whatever your species. It's worth keeping an eye on M Restaurant's website because its dog-friendly events go way beyond some biltong. Every quarter, it hosts a themed "Pooch Party" In October, there was an "end of Fashion Week" party complete with cat-, or should that be dog, walk show by dog-centric Savile Row tailors Tail-or-Made, a photo shoot, and DJ. There was even a "nap and story "corner for any party-pooped pooches in need of some me-time.
Sunday Lunch: The Bull & Last, 168 Highgate Road, NW5 1QS
Tel: 020 7267 3641
With its wood planned walls, numerous taxidermised bull heads of varying sizes, and heavy tables, the Bull & Last very much announces its proper pub credentials as you walk in the door. On a bleak winter's day, it is a cosy, clatter-y refuge from the clutches of Hampstead Heath, on whose edge it sits. There's beer on tap, good red wine, and a fabulous roast menu featuring substantial cuts of meat or roasted celeriac for those eschewing animals. While there isn't a menu especially for dogs, well-behaved hounds will be rewarded with pigs ears and marrow bones.