If you're an August baby, you get to choose your birthstone because this month has three. So are you passionate about
peridot
, or seduced by
spinel
and sardonyx? With its green the colour of sunlit forests, peridot brings peace and compassion, while rich red spinel and sardonyx represent strength, happiness and spiritual health. Seeing as this is your birthday month, why choose? Wear all three and gift yourself a spiritually supercharged August.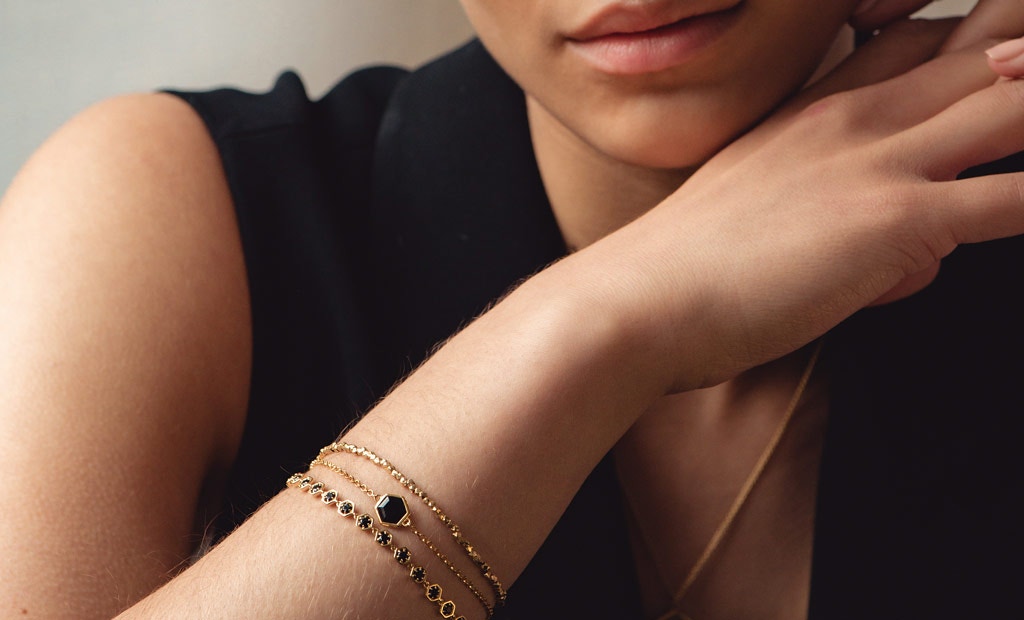 The most recent addition to August's list of birthstones is the great spinel, a stone that has the power to rejuvenate and re-energise you spiritually.
So, whether you're looking to gift or to keep, we've got all the spinel jewels to keep you spinning into a state of euphoria.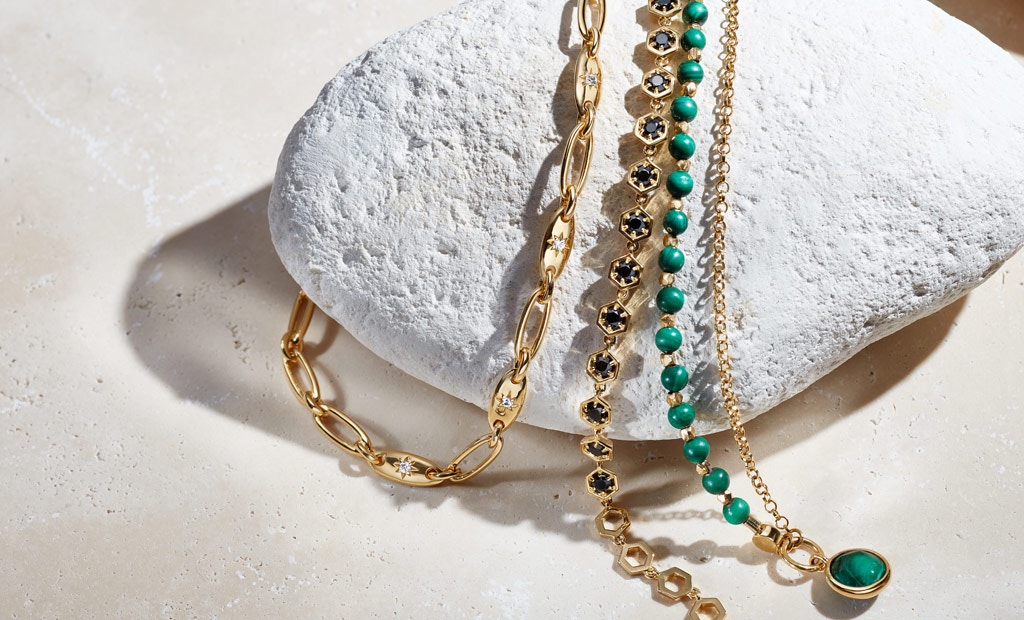 Our black spinel jewellery is set in 18 carat gold plated sterling silver, setting you up superbly as a base to style. Dress up or down your spinels by stacking more than one bracelet, combining different coloured gemstones, mixing metals or adding charms for a touch of boho chic.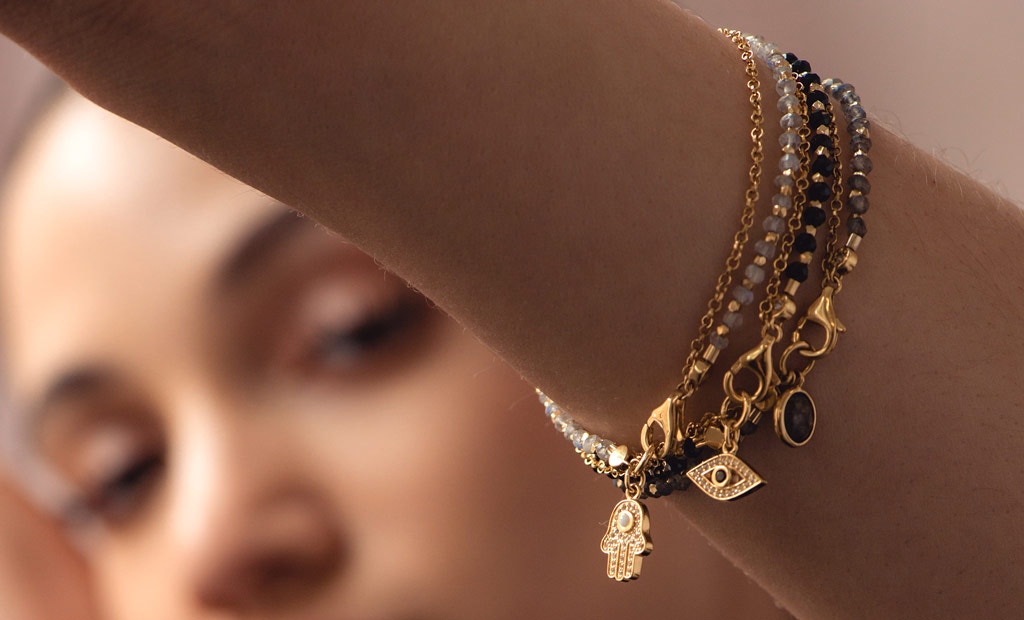 Spoilt of choice? 
Here are our favourite Spinel pieces of the season.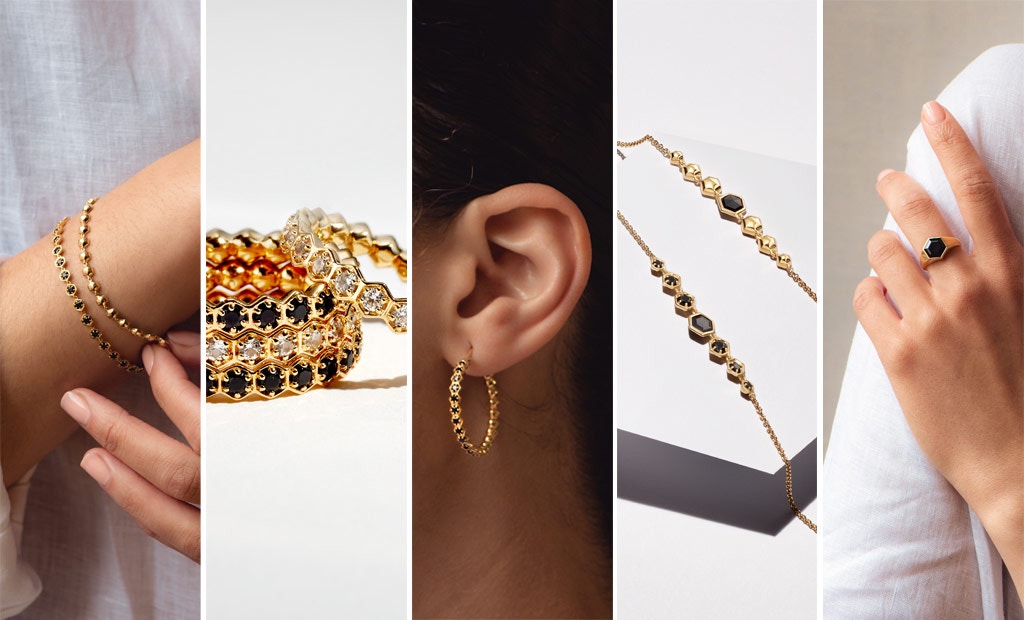 1. Reversible Deco Black Spinel Bracelet - Capturing the signature colour combination of the 1920s with a row of hexagonal cut black spinel gemstones set in 18ct gold vermeil. The reversible design allows for this bracelet to be worn in multiple ways to create two unique looks. Wear alone with a classic linen shirt for a laid back luxe aesthetic or stack with other gold bracelets for more of an impact.
2. Deco Black Spinel Eternity Ring - Showcasing an infinite band of black spinel gemstones in an intricate hexagon cut, inspired by the geometric patterns of the Art Deco era. The perfect alternative to the traditional eternity ring. Pair effortlessly with the Deco Moonstone Eternity Ring for a statement stack.
3.Large Deco Black Spinel Hoops - Drawing inspiration from traditional geometric patterns and colours emblematic of the Art Deco era. The lightweight design features a row of hexagonal cut black spinel gemstones set in 18 carat gold vermeil. Partner with smaller Deco hoops for a graduated hoop stack or wear as a statement stand-alone piece.
4. Reversible Deco Black Spinel Detail Necklace - A celebration of spinel, showcasing a graduation of geometric cut black spinel gemstones. This detail necklace has a reversible design that allows it to be worn in multiple ways; making it the perfect piece for stacking with longer length pendants. Match with a crisp white shirt for a modern take on a classic aethetic.
5. Deco Black spinel Signet Ring - A modern interpretation of the classic signet ring. A bold gender-fluid design showcasing a sharply faceted black spinel. Wear with sensuous fabrics; rich velvet or soft satin, to embrace its hedonistic aura or pair with soft linen to add a touch of decadence to your everyday.