Ready for your close-up?
 Sea-blues and warm gold make a relaxed desk-to-dinner statement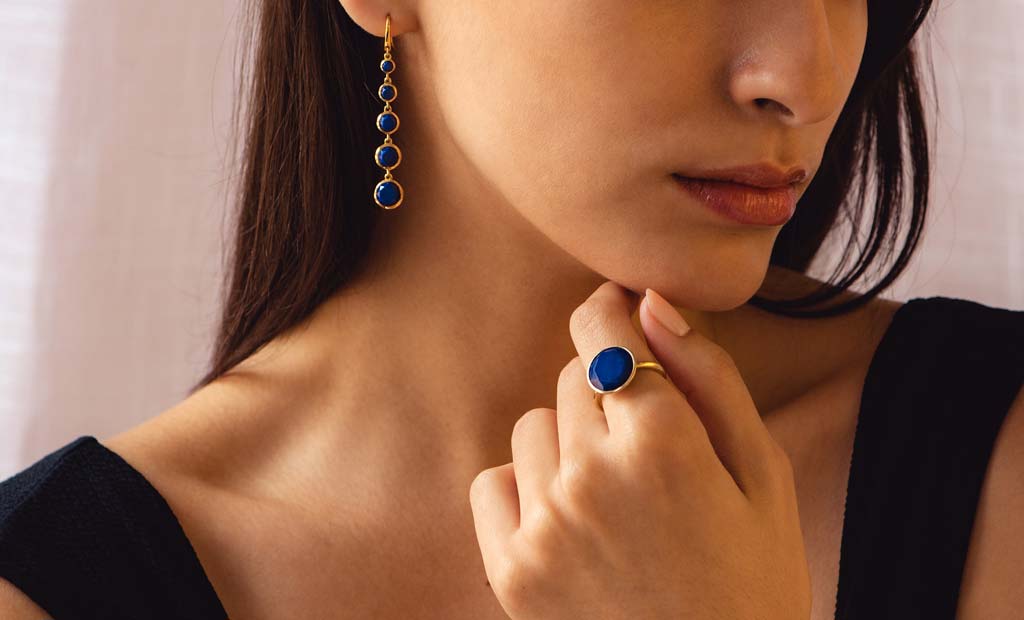 Above-keyboard dressing doesn't have to be complicated. Blue Lapis earrings, the colour of far-flung oceans, and a statement ring are all that's needed. Add a touch of royal gravitas with our Stilla Lapis Lazuli pendant.
It's a Kate Middleton favourite.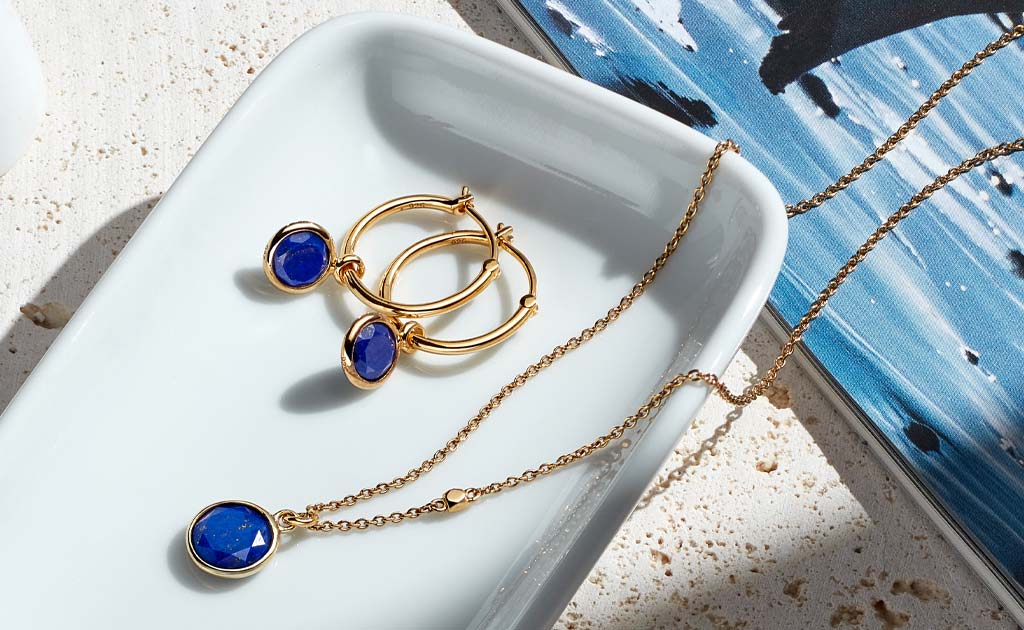 Layering necklaces is a simple way to make a statement. Dainty drops of lapis lazuli and rich yellow gold create a contrast that effortlessly attracts attention, whether on camera or in person.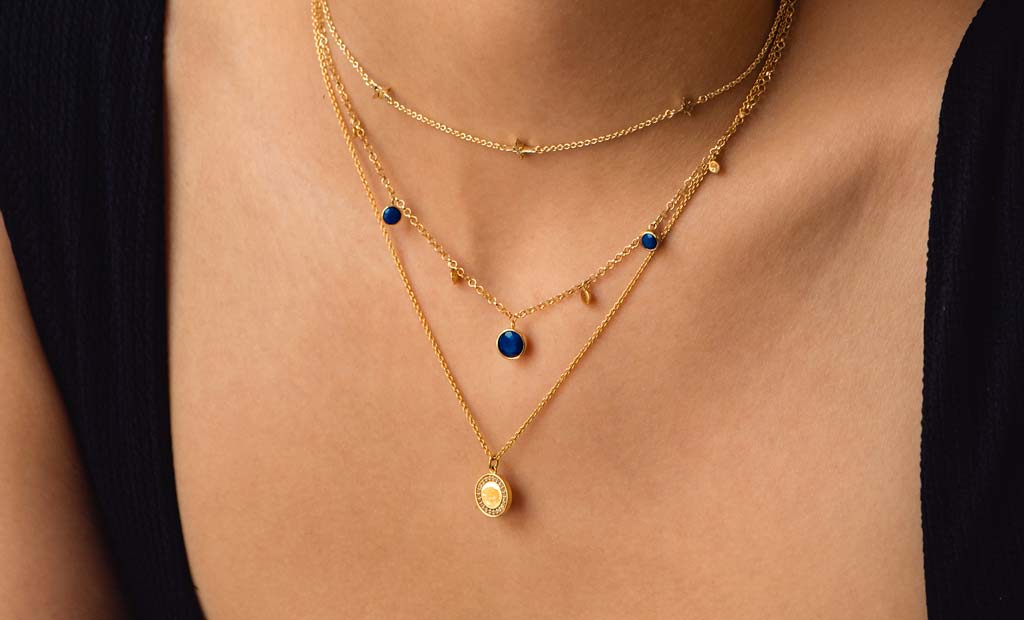 Royal Blue
 Lapis Lazuli has been renowned as the gemstone of royalty throughout history...no wonder it caught the eye of the Duchess.
Originally discovered in ancient tombs in Asia, Africa and Europe, Lapis Lazuli was a firm favourite with Egyptian Pharaohs, adorning jewellery, pendants and masks of royalty to reflect their wealth and status. It is most famously know to have adorned the death mask of the great Egyptian ruler Tutankhamun.
Translating as 'Blue Stone,' symbolic for its rich deep blue hue with flecks of gold pyrite, the midnight stone was also widely admired for its striking colour. During the Renaissance, the stone was ground down into a fine powder by artists and used to create the pigment ultramarine; fashioned in paintings including Michelangelo's frescoes in Rome's Sistine Chapel and Vermeer's Girl with the Pearl Earring.
A gemstone admired by many throughout history, it is no wonder that Lapis Lazuli is one of our favourites at Astley Clarke - here are a few of our most treasured Lapis pieces from our Stilla collection and how to style them effortlessly into your everyday.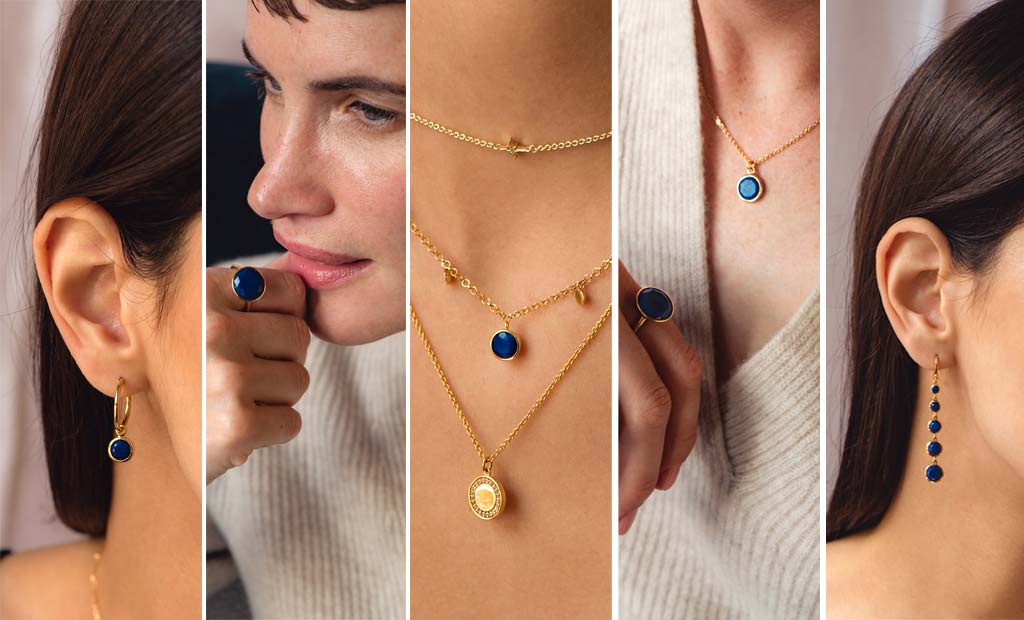 1. Stilla Lapis Drop Hoop Earrings: The classic gold hoop receives a complementary pop of colour in the form of enchanting deep blue lapis lazuli gemstones. Pair with our Stilla Lapis Droplet Necklace for a matching set destined to make a statement.
2. Large Lapis Round Stilla Ring: Statment by name, statement by nature. This beautiful ring features a captivating large blue lapis lazuli gemstone set in  18 carat yellow gold vermeil. Pair with lightweight knits and pale denim mom jeans, bringing a touch of majesty to your everyday wardrobe.
3. Stilla Lapis Droplet Necklace (also part of the Celestial Lapis Necklace Stack): Compliment other gold chains with subtle droplets of Lapis Lazuli gemstones. Pair this delicate Lapis adorned pendant with delicate gold chains of varying lengths to accentuate the neckline of any LBD. Not sure how to stack? Our pre-styled Celestial Lapis Necklace Stack will help you achieve effortless layering in no time.
4. Stilla Lapis Pendant Necklace:  Feel like royalty with our bestselling Lapis pendant. The spectacle set gemstone setting makes the Lapis the centre of attention; showcasing the rare beauty and rich hue of the stone. Pair with a simple white t-shirt and navy blazer for a polished laid back look or take a note from the Duchess and colour block with a smart form-fitting ensemble.
5. Stilla Cascade Drop Earrings: Let the Lapis do the talking with these statement drop earrings, showcasing cascades of Lapis Lazuli gemstones encased in 18 carat gold vermeil. Wear with a simple high neck jumper for a classic look or adorn an elegant silk slip dress for a more formal affair.
Not feeling blue...our Stilla collection is also available in a myriad of bright gemstone colours.