You can learn a lot about a person from what they wear on their wrist.
Gold bracelet stacks are a personal way to express yourself and share your story. They give a little hint of who you are. Your chosen wrist charm (or two...or more) can also be a reflection of your daily mood or even help guide you through the everyday hustle. Some of our designs are crafted from 18-carat gold or rose gold vermeil and some with solid 14-carat gold, rose gold or white gold. Whichever you prefer, each piece is designed to stand the test of time, and even become your next heirloom.
Our stunning silhouettes for your wrist are designed for women by women, and are inspired by everything from the celestial night sky to the Indian festival of Rakhi. Adorned with vibrant gemstones and sentimental charms, you can even have our bracelets engraved to add the perfect personal touch.
Dangling elegantly from an otherwise bare wrist or strikingly stacked to make an impression, simply sliding one on your arm will no doubt elevate your outfit (and your mood). So, now we've got you thinking about your next wrist stack, why not take a look at some of our styling ideas below? From gorgeous gold layers dripping in diamonds to bracelets that do the layering for you, your arm candy awaits.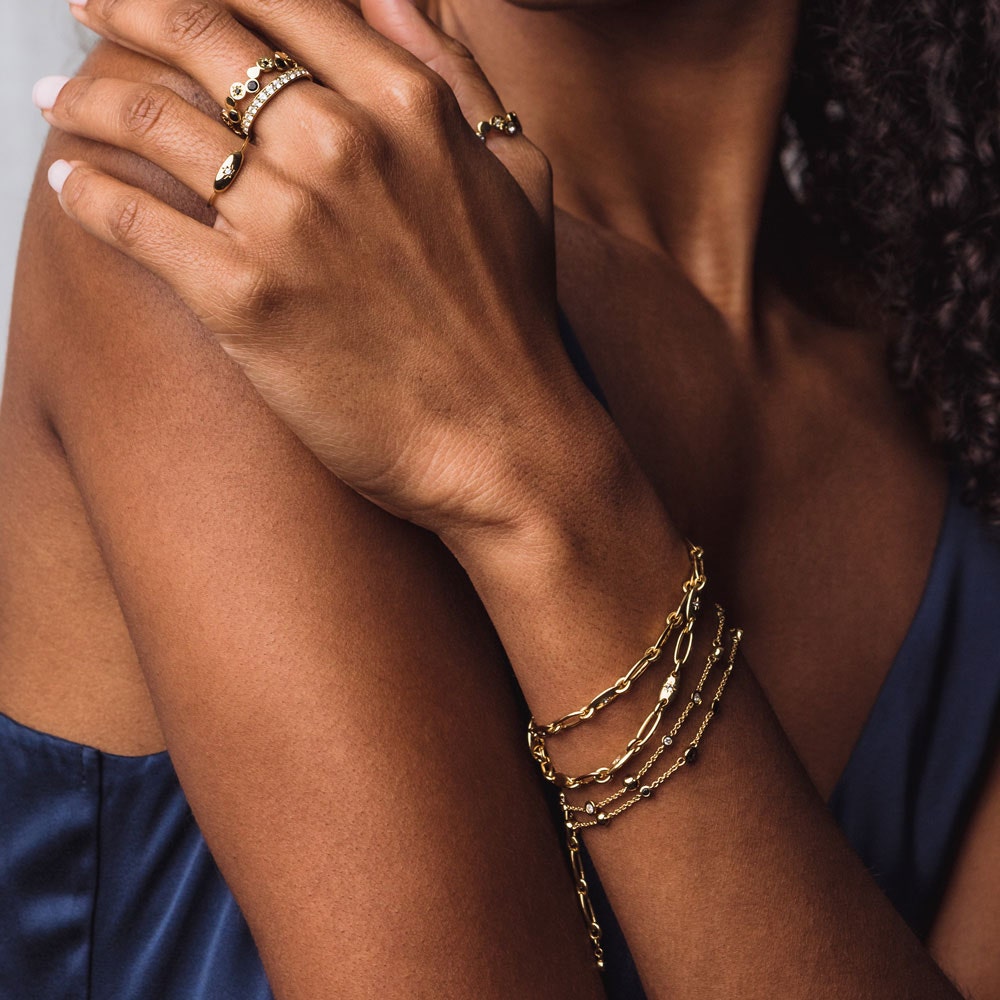 ---
LUXURY LAYERING
...at its absolute finest. All of our diamond show-stoppers are set on 14-carat gold, white gold or rose gold and serve to shine, shimmer and sparkle. Using a diamond pavé technique allows for a stronger setting with optimum clarity, so your diamonds can truly dance in the light. Our favourite? The new Asteri collection, where each piece plays on the idea of astral explosion. We guarantee that these adjustable gold tennis bracelets (for every fit) will be a worthwhile investment, providing you with a dose of refined sparkle, all day, every day.
PS - all of our diamonds are natural, conflict-free and ethically sourced, and we also use 100% recycled gold for a more sustainable approach to jewellery design.

---
CHAIN REACTION
Inspired by the glamorous and bodacious 80s, classic chains that feel ultra-modern have taken the jewellery world by storm.
Sculptured and linked, twisted and looped, we crafted these wear-everywhere chain bracelets to add texture to your look and create that instant layering effect we all love.
Wear just one, double up or stack them all. Mix with a selection of subtle styles or go chain crazy from head to toe. Choose all-metal chains in polished gold or choose alternating links set with radiant white sapphires. However bold you decide to go, the chain bracelet will bring a bright touch to your everyday look.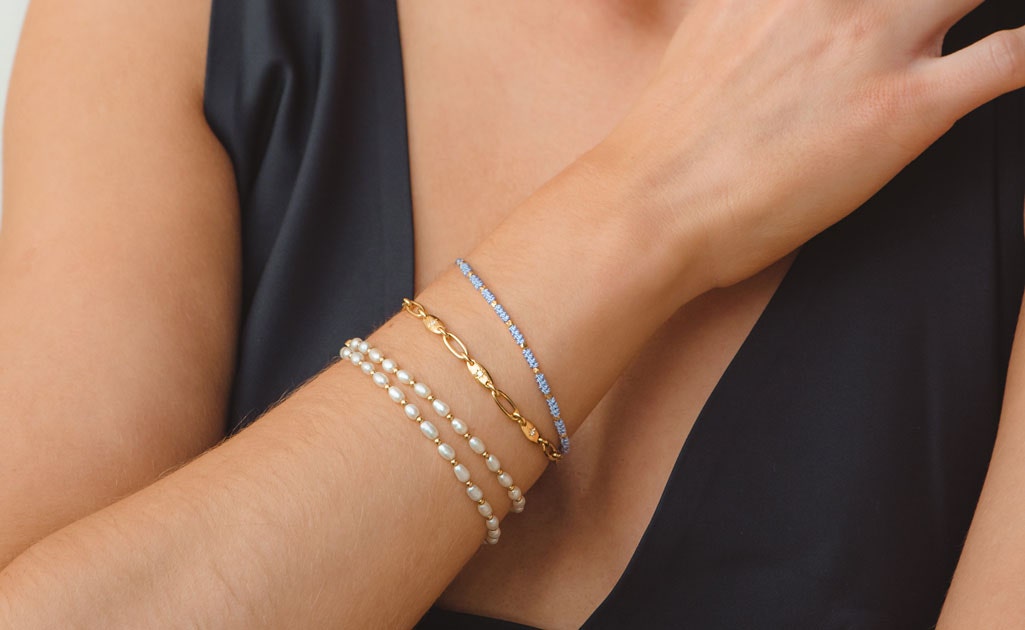 ---
THE GO-2
What's your go-to pairing? We have many favourites of course but one that never disappoints: the gold Aubar Bracelet and Circulus Mother of Pearl Bracelet.
Choose from either the magical swifts and swirls of Abalone, the lustrous glow of Mother of Pearl, or Black Onyx for a beautiful night-sky back-drop, and pair these gemstone heroes with the subtle yet complementing chain of the Aubar design. This is a match made in heaven and will no doubt elevate your look from ordinary to extraordinary.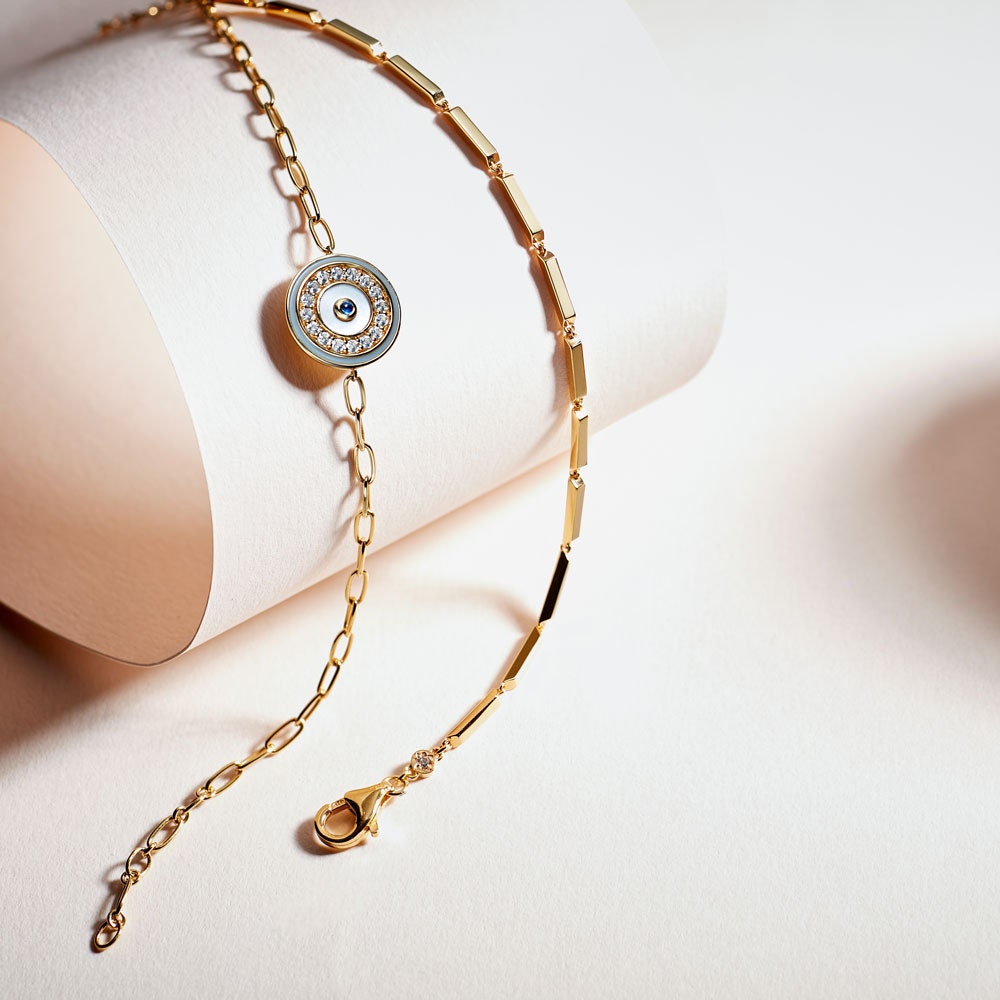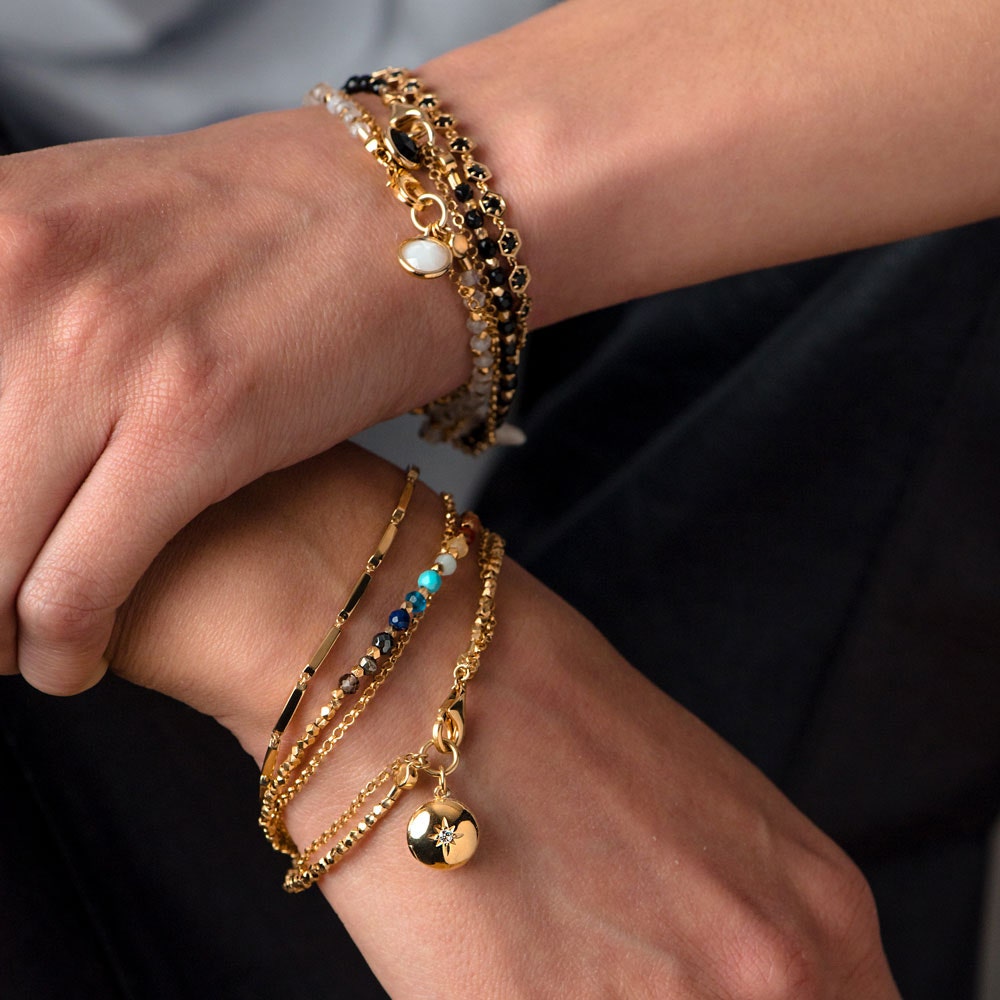 ARM PARTY (& YOU'RE INVITED)
Now is your chance to have some fun and show off your AC collection. But if you're looking for more direction, we do have a few more stacking secrets up our sleeve.
Texture is often all-metal and becomes our base piece. From gold chain styles like our Celestial Orbit Chain Bracelet to more decorative styles like our Solstice Bangle, it's good to start with these textural pieces first, and build out from there. Next, add your sparkle with bracelets adorned with charms. Looking for something subtle? Choose the radiant stars on our Celestial Station Bracelet. Looking for something more symbolic? Choose our Biography charms. Not only does this add sparkle, it's how you add personality and meaning to your stack. Finally, add a pop of colour with our range of gemstone styles. Create a colour story that's unique to you, and your outfit.
2 BECOMES 4
When one gold bracelet becomes two, and two becomes four (and so on...), this is stacking made easy. Our Biography bracelets consist of dual chains so you can reach your bracelet layering goals quicker. Gleaming gold curb chains run parallel with either textured gold nuggets or hand-cut gemstones, finished with a special charm. Each design takes inspiration from talismans and symbols, giving you a grown- up friendship bracelet packed with more meaning. From Cosmos charms symbolising infinity to Evil Eye charms symbolising protection, every style has its own personality. For even more personality, discover our Biography Locket Bracelets, which can be personalised with a photo and/or engraving.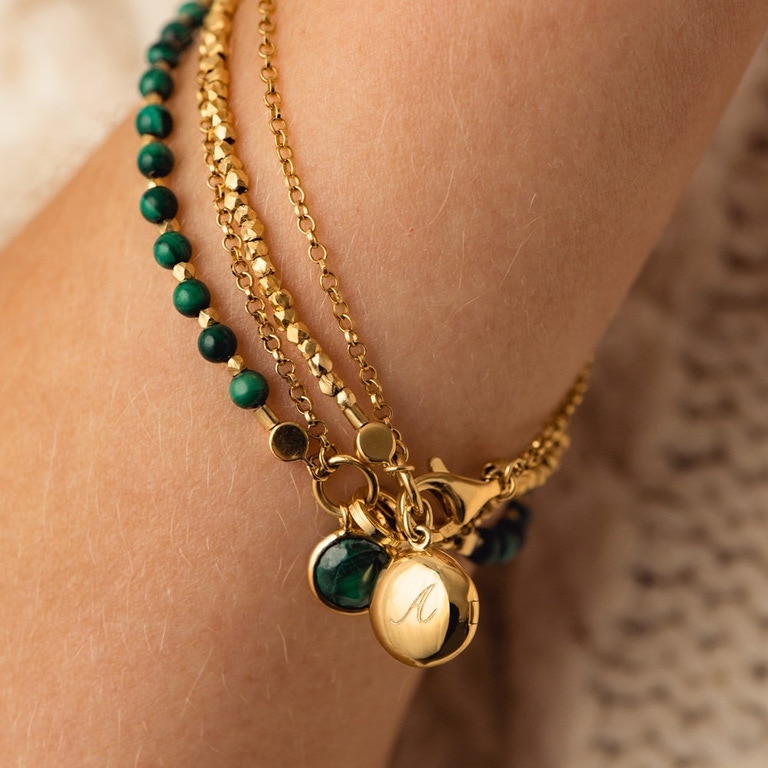 ---
SOLID GOLD VS GOLD VERMEIL
We define our jewellery as being made from 14-carat recycled solid gold or 18-carat gold vermeil. The first one is immediately understandable but "vermeil" – what exactly is it? Is it gold plating with a fancy French name? Well, it is similar to gold plating but it's the quality of the materials that make it more luxurious.
Both terms refer to the coating of a base metal with gold. With solid gold, the base metal can be anything, and the carat quality of the gold is not fixed. With gold vermeil, the base metal must be solid sterling silver, and the gold plating must be higher than 10-carat. The quality of vermeil also differs from country to country, but it's always mandated and must adhere to the national standards in order to call itself vermeil. At Astley Clarke, we use 18-carat gold plating because there's less chance of it rubbing off or tarnishing and, well, we like to add a little luxury wherever we can.
---
Looking for more style tips or more information about our gold plating? DM us on Instagram to chat with a member of our AC team. Or share your bracelet stack creations with us using the hashtag #ACStyle.