When it comes to accessorising, layering jewellery is our go-to for creating a personalised look that suits our mood by mixing and matching pieces in our jewellery box. New for AW23, we bring you
Layering Chains
in our
bracelets
and
necklaces
collections available in Silver and Gold.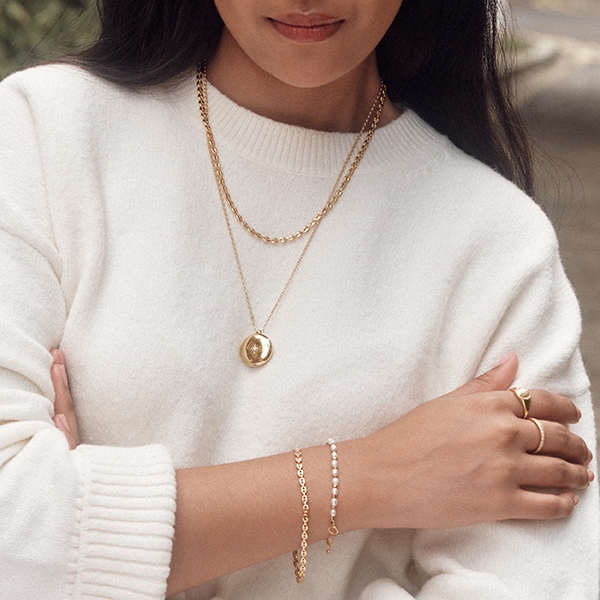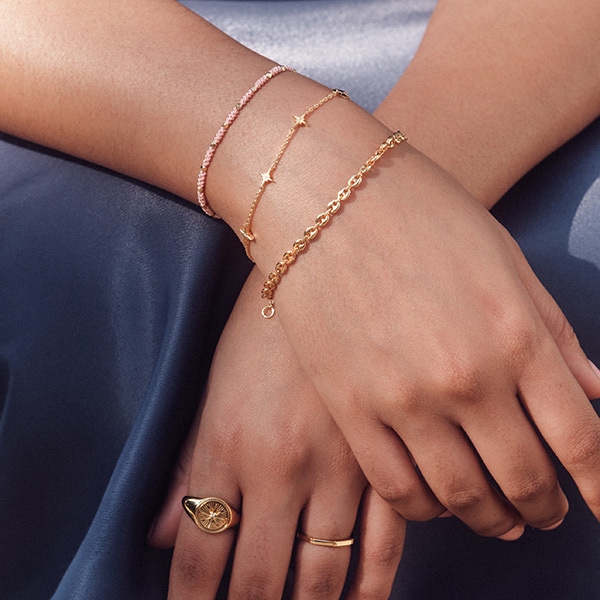 Which pieces are in the collection?
From the classic Rope and Paperclip chains to the more vintage-inspired Mariner and Petal chains these are iconic pieces that will always have a place in your wardrobe. They add texture, and with their differing weights and shapes, they bring extra interest to your lockets and pendants when layered up.
Why Layer Chains?
Layering jewellery and necklaces and bracelets in particular, is an easy way to elevate your style. It brings you endless options because you can work with different chain lengths, styles, and metals to suit your outfit. We love how a stack can turn even simple jeans and a white t-shirt into a chic look that takes you from day to night.
Choosing the Right Chains:
Layering your favourite pieces can be simple once you know how. Follow our tips to work this trend into your everyday:
Chain Length:
Choose chains of varying lengths for a put-together look. If each one sits at the same length it can often look too messy and your chains will tangle. A classic trio includes a short, medium, and long chain, but there are no rules – it's all about what you feel best in.
Chain Style:
Mixing and matching styles is key. Experiment with different chain types such as snake, rope, and square link chains - this will add texture to your stack too.
Metals and Pendants:
Mixing metals, like Silver and Gold, can add a contrast. You can also experiment with gemstones, pearls and some overlap is nice ,especially when adding a pendant necklace.

Creating your combination
Balance Lengths:
Start with the shortest chain at the collarbone, working your way down. This creates a cascading effect that looks nice and gives each piece space.The majority of our necklaces can be adjusted so play around with the lengths this way too.
Create Contrast:
Mix delicate and chunky styles for a point of difference. This adds depth to your layers.
Space Them Out:
You don't want them to become tangled or lost in one another so giving them a bit of room is key.
Personalising Your Layers:
Your layered chains are a reflection of your individual style, so add a personal touch by clipping on one of our talisman, gemstone or locket charms.
Don't be afraid to adjust your layers until you find the combination that works for your style!