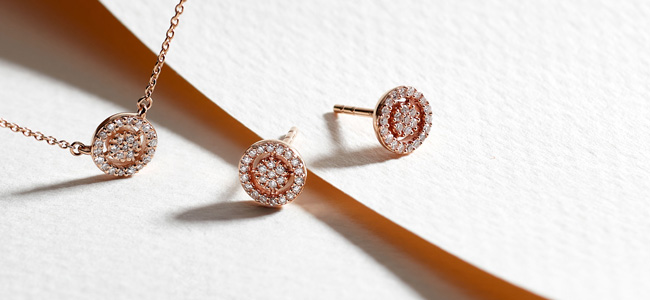 Elevate your earring stack with the blush pink tone of 14 carat solid rose gold fine stud earrings, complete with diamonds and semi-precious gemstones. Alternatively, mix and match a new combination every day with demi-fine studs crafted from 18 carat plated rose gold.
ROSE GOLD STUD EARRINGS
Striking the perfect balance between yellow and white gold in a soft pink hue, rose gold has quickly become a popular metal choice within demi-fine, and fine jewellery. Ready to add subtle femininity to your earring collection, our rose gold, stud earrings in 18 carat rose vermeil and 14 carat solid rose gold promise on timeless sophistication with a modern twist. Adorned with complimenting gemstones including pastel opal, gemstones and brilliant cut diamonds, each single earring and double pair are made to be mixed and matched with one another to curate your own earring stack. Highlights include our Icon Aura diamond stud earrings, , the minimalist Stilla disc studs loved for their endless versatility. With free delivery and returns across the UK, USA and Europe, there's never been a better time to build upon your rose gold earring collection with Astley Clarke.