Blue Sapphire is one of the best known gemstones in the world, known for its starring role in arguably *the* most famous engagement ring of all time. Sapphire is one of only four gemstones classified as precious, but did you know it also comes in an array of colours besides blue? Read on for everything you need to know about Sapphire, plus our top Blue and White Sapphire picks here at Astley Clarke.
Are Sapphires always blue?
Sapphires are most commonly thought of as blue, but actually they come in an array of different colours, including white, yellow, green and pink. To get scientific, Sapphire is a mineral called Corundum - all Corundum is called Sapphire with the exception of the red Ruby.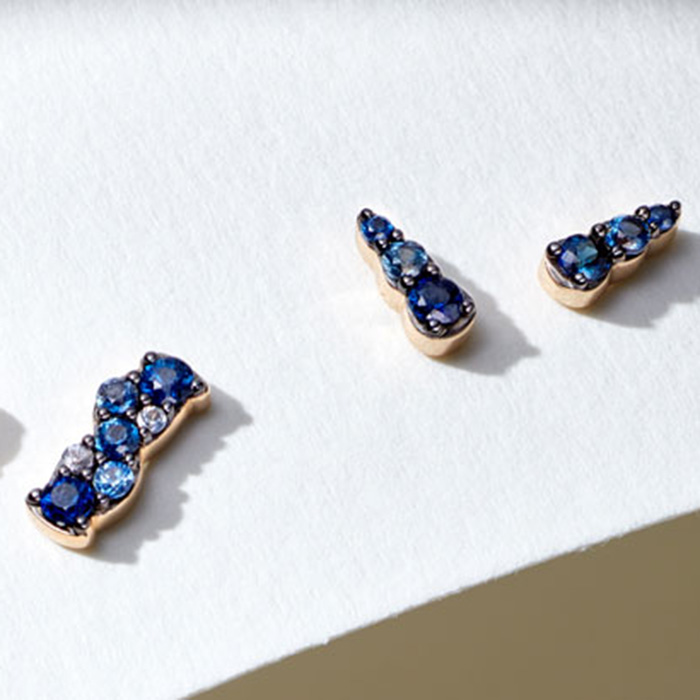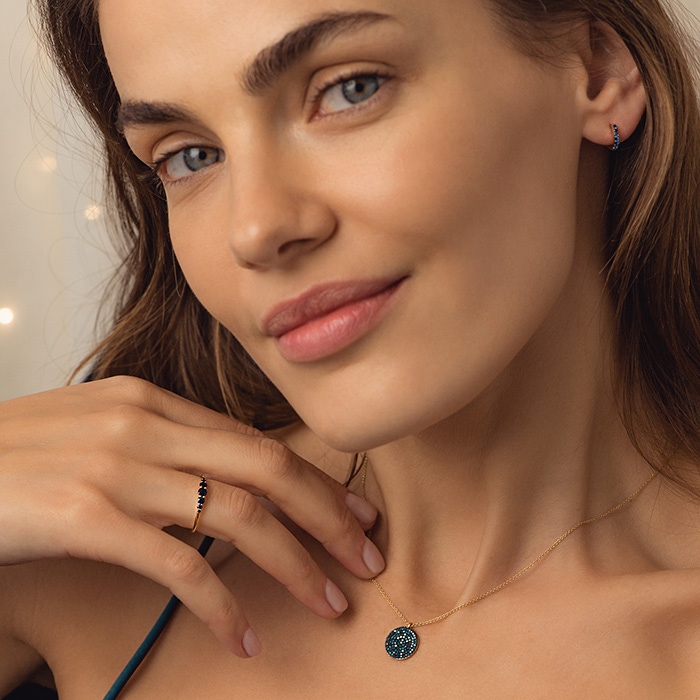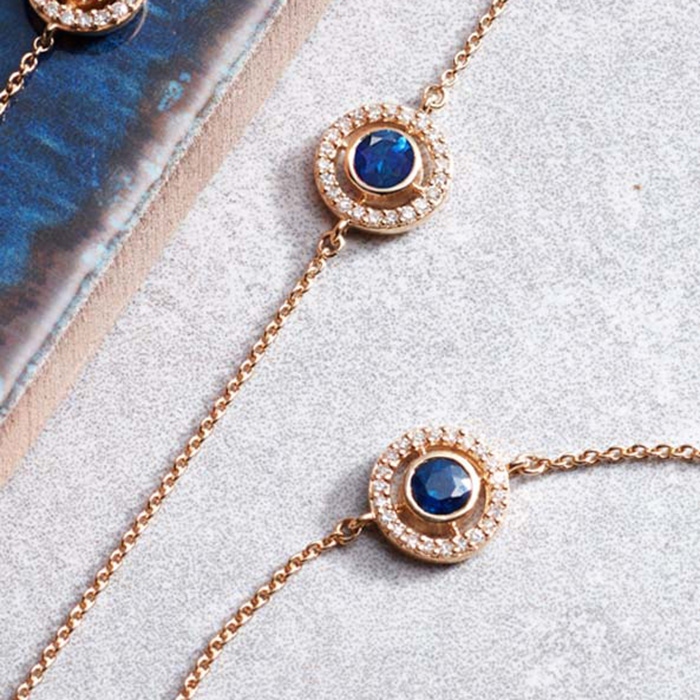 What is the meaning of Sapphire?
The colour blue is meditative and calming, making Sapphire a common meditation tool to enlighten and expand awareness. It is thought to bestow love, inner peace and fortune and bring wisdom and clarity of mind due to its link with the Crown Chakra. Sapphire is also said to bring good luck in business ventures and harmony in relationships. Good to know…
Is Sapphire a birthstone?
Blue Sapphire is September's birthstone and represents wisdom and clarity.
What are the properties of Sapphires?
Next to diamond, Sapphire is the hardest mineral on earth, making them perfect for jewellery that's durable and beautiful.We use Blue Sapphires in our fine collection and White Sapphires in our demi-fine pieces.
White Sapphires are the translucent, colourless version of the corundum crystal and a more beautiful, luxurious and durable alternative to the clear crystals or glass used by many jewellery brands. You'll notice our White Sapphire earrings, bracelets, necklaces, lockets and charms. They're also beautiful set alongside colourful gemstones and to add some subtle embellishment to gold and silver pieces.
Which of your pieces star White Sapphires?
Many of our Polaris and Celestial pieces are embellished with White Sapphires, giving a feel of understated luxe. We love how White Sapphires can lend some subtle dazzle to an everyday basic (like these Polaris Huggie Hoops) or some serious drama to a statement piece (like this Pearl Drop Pendant).
How do I wear Sapphires?
The joy of White Sapphires is that they look good with anything. Take our Celestial collection - delicate, contemporary and studded with tiny White Sapphires for subtle dazzle. The Half Star Stacking Ring is a beauty, as is the Polaris Oval Pendant. Perfect for summer and beyond, it's no-rules jewellery that goes with everything. As for Blue Sapphires, the solid gold Evil Eye Pendant is a cult classic you can't get enough of - great for your summer bracelet stack.
Next time you look up at the sky, think of Sapphires…
The ancient Persians believed that the Earth rested on an enormous sapphire, and it was the reflection that coloured the sky. Plus, clerics in the Middle Ages wore Sapphires as a symbol of their heavenly connection.
The most famous engagement ring in the world features blue Sapphire!
Currently the most popular gemstone for an engagement ring, the 12 carat Ceylon sapphire ring originally belonged to the late Princess of Wales and now the Duchess of Cambridge. Sapphires have been worn by royalty through the ages, as a symbol of good fortune, virtue and wisdom.
Get the royal treatment with Blue Sapphire from our fine collection!
Set in solid 14ct gold, our beautiful fine collection featuring blue Sapphires includes our best-selling Evil Eye Sapphire Necklace. It's a double whammy of meaning with protection and wisdom all wrapped up in one. Our other Blue Sapphire styles are equally luxurious.
What is the largest known Sapphire?
At 536 carats, the 'Star of India' is the largest known star Sapphire. Donated to the American Museum of Natural History by the banker J.P. Morgan, it was stolen by the infamous Jack Murphy, Murph the Surf. Recovered two months later, it is one of the more famous gemstones. Currently displayed in the Smithsonian Museum of Natural History, the Logan Sapphire is 423 carats, and the largest known faceted Sapphire. Oooh.
Where do Sapphires come from?
Sapphires are mainly sourced from Myanmar, Sri Lanka and India.
Sapphires are responsibly sourced with Astley Clarke
We're committed to being a responsible, environmentally-conscious brand. We have long term relationships with a small number of expert suppliers, all of whom are Responsible Jewellery Council (RJC) certified. This means responsible business practices from mine to retail for all our gemstones, supporting international standards, improving ethical, social and environmental conditions and supporting local communities. This means all of our pearls are responsibly and sustainably sourced.
Feeling inspired to add some Sapphires to your jewellery look? Go and take a look.