---
WHAT IS A FRIENDSHIP BRACELET?
Since the pandemic, our desire to celebrate friendships and exchange meaningful gifts are stronger than ever. And what better way to share the love by gifting jewellery lovers (and yourself) a beautiful bracelet (or two) designed to be treasured forever.
Friendship bracelets are reminders of our inimitable bonds with those we love the most and can be gifted at multiple stages during a friendship. From birthdays, baby showers and big news to simply sending remote hugs, they're here to assist those special moments.
But where did friendship bracelets originate from? Well, they've been exchanged across many cultures for decades to symbolise a meaningful relationship between two people. Traditionally handmade using a form of knotting called macrame, the love and effort required to craft these bracelets was acknowledged in receipt of the gift and if the bracelet was ever removed purposefully (rather than wearing off naturally), it would signify the end of the friendship. Whilst we've probably moved on from our school days of braiding colour cords together in creation of the ultimate friendship bracelet, we still hold the same strength of sentiment for our closest friends.
NOT JUST FOR FRIENDS
They're designed for you, so you can have the most amazing arm party.
---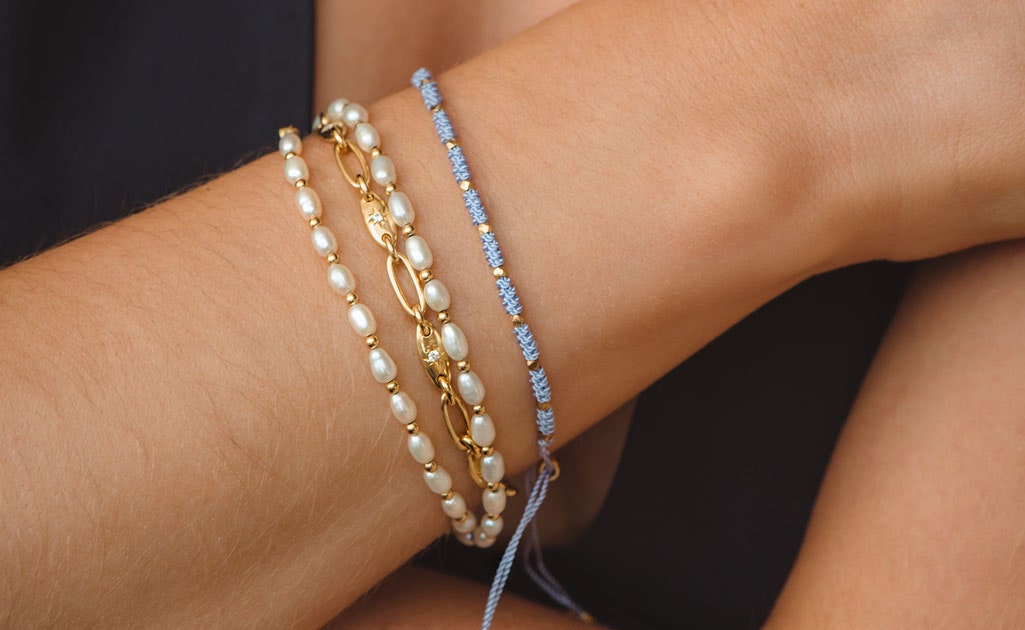 ---
From all-metal styles and lockets to more vibrant designs adorned with colourful gemstones and symbolic charms, all our stackable bracelets are set in either 14-carat recycled solid gold, 18-carat gold vermeil, rose gold vermeil or sterling silver. Some are adjustable, some are encrusted with diamonds, some are delicately dainty, and some are more chunky. Either way, they'll not only brighten your day; a wrist stack is there to serve your most simple attires.
Let's explore the many ways in which these ultimate charmers can be gifted, styled, stacked and personalised.
---
BRIGHTEN YOUR DAY
From best-selling Biography bracelets, inspired by the symbolic bracelets exchanged during the Indian festival of Rakhi, to classic woven friendship bracelets available in revived colours for your adult wardrobe, no outfit is complete without an armful of bright jewels and beach-ready hues.
Pairing rich yellow gold tones or the blush accents of rose gold with your favourite gemstone combinations creates a colour pop of juicy rocks that glisten at every turn. Once
you learn how to layer these gems, you'll create your very own colour story, that's totally unique to you. Each gemstone and symbol has its own significance; they're talismans of regeneration, wisdom and protection.
Decide your message, your affirmations and the colours that represent you, then start experimenting with different layered looks.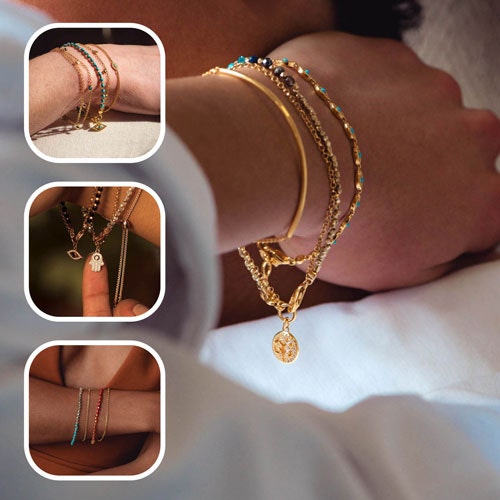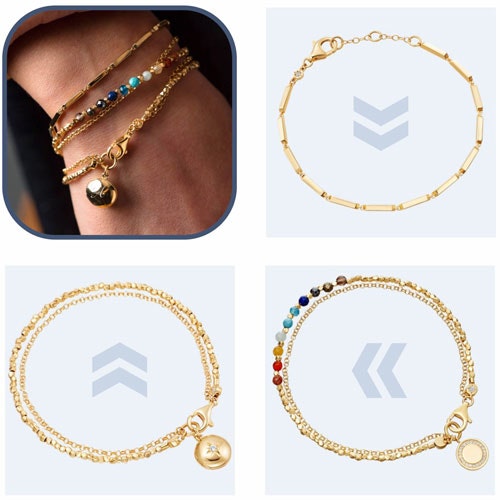 AS EASY AS 1,2,3
The perfect personal stack is not bought in one go; it's collected and gathered over time. A great starting point for any bracelet stack is picking a unifying trait. This could be anything, from a particular type of bracelet, a common metal colour, or a colour scheme. Once you have your theme in place, feel free to mix texture, colour and even metals for the ultimate arm party look.
We recommend starting with an all-metal chain, like our Aubar Bracelet in yellow gold, as your base. Then, build your stack from there and add colours or hand-cut gemstones to the party. Next, add some meaning with a variety of symbols or personalisation by engraving your charms or adding photos within your lockets.
It might be wise to take note of your other daily accessories, such as a watch or a necklace, and style your bracelet stack to compliment these pieces.
MAKE IT YOURS (OR THEIRS)
Make these forever pieces even more personal. Our designer friendship bracelets adorned with charms can be engraved and our lockets can be personalised with photos. This takes gifting to another level (even if you're treating yourself).
Engraving is a technique that has been in use since the 5th century BC. Jewellery engraving has always been used to personalise something that is intended to last. From engraving your own initials or the initials of a loved one to marking a moment with a date or a birthday, the moral of the story is abundantly clear: why would you say it, when you can engrave it?
If you prefer something a little more visual, encompassing one or two photos within a bracelet locket charm will provide you with the ultimate sentimental jewellery piece. Perhaps it's your favourite photo of a loved one (or pet) or even a photograph of your favourite landscape, either way, it's your sentimental moment.
Learn more about our free personalisation services here.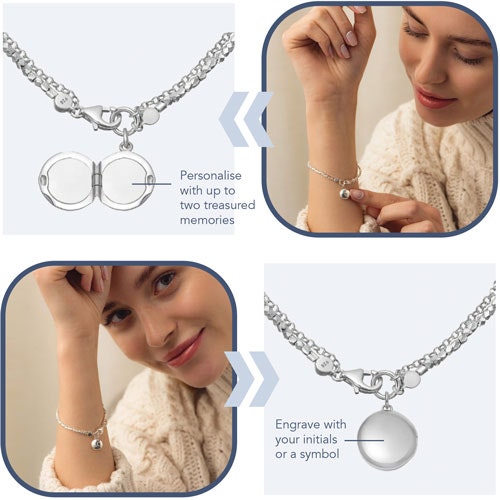 PRE-MADE BRACELET STACKS
A curated edit, just for you. Discover our pre-made stacking bracelets to make things even easier. Each selection includes the best of Astley Clarke with a range of stunning symbols and charms as well as colourful gemstones and subtle hints of sparkle.
In the spotlight is our Triple Evil Eye Bracelet Stack in sterling silver designed to provide defence against the evil eye. The beautiful blue Lapiz Lazuli is balanced with our favourite Rainbow Moonstone, and the silver woven through serves to enhance this mystical vibe. If you feel in need of safeguarding, then this stack is for you.
Outfit tip: wear with a casual white tee and a pair of your best jeans to enhance the Lapis even further.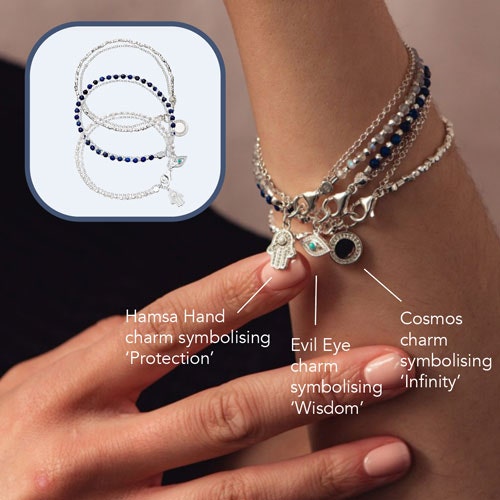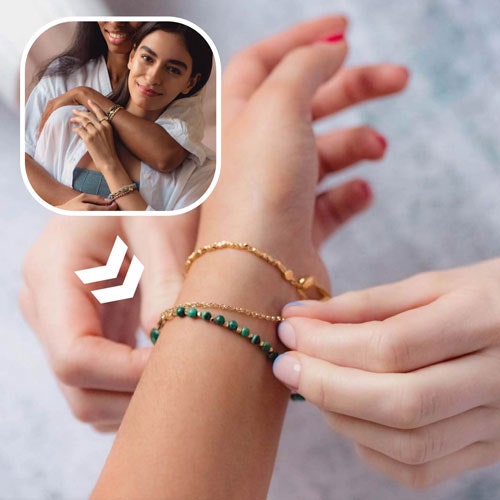 MADE FOR GIFTING (& RECEIVING)
We like to think that our friendship bracelets for adults can not only be gifted for multiple occasions, but also exchanged, swapped, and passed down from generation to generation.

Whether you're sending your friendship bracelet in the post, or comparing styles in person, mix and match with your friends to create new looks. Or maybe you met someone at a one-off time, but they became worthy of one of your charms (and vice versa).

It's all about sharing the love.
MAKE IT SPECIAL
Turn on the charm, and have your gift beautifully wrapped in our signature (and sustainable!) packaging. And if you were thinking of buying a gift card, these are now 100% biodegradable (thanks to Ecologi technology).

Presentation is a critical part of gifting, but it doesn't need to cost the earth. Our packaging is all FSC-certified making it 100% recyclable. We also avoid the use of plastic wrappers on our UK deliveries, which are all carbon neutral, and our exquisite gift wrap paper is actually 100% Japanese Kozo paper. For those buying jewellery for themselves we offer an eco-option at checkout. Thanks to our wonderful customers, this has already saved over 4,000 boxes needing to be recycled.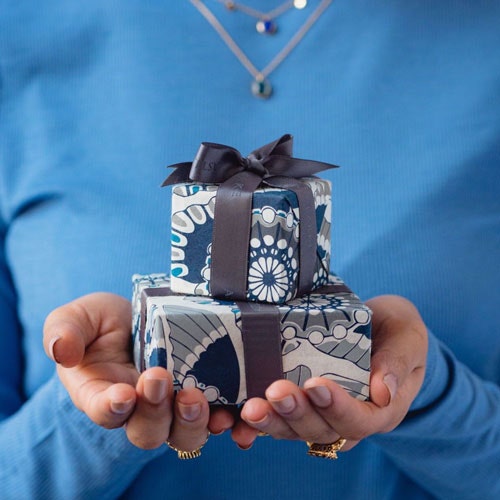 ---
Looking for more style tips or more gifting advice? DM us on Instagram to chat with a member of our AC team. Or share your wrist stack creations with us using the hashtag #ACStyle.