No accessory works harder than the humble hoop earring. This is wear-with-everything jewellery, a must-have, a go-to, a staple. Some say hoop earrings are like the perfect pair of jeans, and we couldn't agree more. But just like denim, the hoop is very versatile.
---
Types of hoop earrings
From day-to-night hoops embellished in colourful gemstones to all-metal hoops made for stacking, we've carefully designed our hoop earrings with every woman in mind. Some are designed to be layered with other styles and some will stand out alone, some are for masterfully making your neck look longer and some will perfectly frame your face. Choose from hoops that hug your ear lobes or hoops that dangle below. Choose from everyday styles with low-key sparkle or event-worthy styles designed to turn heads. Whichever hoop look you choose, we recommend preparing for endless compliments.

---
SUMMER-READY HOOPS
Going gold for your summer look adds an effortless sun-kissed glow to your complexion. Whether you go small, large, chunky or thin with your hoops, the radiant warm-tones of our 18-carat gold vermeil and 14-carat solid gold will have you beaming beautifully under the golden sunlight. That's why we've put together some of our best hoop looks, so you can be summer-ready when it comes to those finishing gold touches.
Hoops For The Sunlight
A hoop that shimmers and shines in the sunlight is a hoop in high demand. From an all-gold glow to star-set sparkling white sapphires, these unique designs are made to be worn in the summer light. Shining bright in our Celestial and Polaris collections, these gold hoop styles take inspiration from a starry-night sky with orbiting sapphires that dance in the light, and that's why they stay with us from day to night.

Layer these hoops earrings with either some smaller plain gold hoops (let your hero piece take the lead) or pair with a lustrous line of white sapphire studs for added sparkle. Let your ears shine even brighter with an up-do hair style, then pair with your favourite al fresco dining outfit.
HOOPS THAT TURN HEADS
Every woman needs a pair of statement-making hoops.

Light, elegant yet designed to be noticed, wearing our Large Polaris Mother of Pearl Drop Hoops is a perfect example of taking your ear sparkle to the next level. The signature compass-inspired star motif disc stylishly swings from a single chain loop connected to a large, polished hoop, with each component creating a new layer of luxury.

Whether you're dressing up a simple white tee or embellishing your party dress, these head-turning earrings are ready to fly solo with no need for stacking. Better yet, pair this stand-out style with our matching necklace and bracelet.
HOOP EARRINGS FOR STACKING
Ear stacking 101: it's all in the details. Some of our hoop earrings are made for stacking and are designed to flatter other styles. Take our Celestial Astra Hoop earrings, which are available in two sizes for different positions on your ear to create that gradient effect. As a general ear stacking rule: the smaller the style, the higher it can shine.

Apart from that, it's just about being playful and experimenting with your stack. Combine large hoops with smaller hoops, studs with bars, and cuffs with chains. Match both your ears with the same line up of gems or switch the order up and create a more muddled look. Or you can even leave out some holes and let a single style shine on its own - that's why we have stacking styles available to buy solo or in a pair. The more piercings you have, the better the stack, but our ear cuff designs are also here to help you reach those ear stacking goals quicker.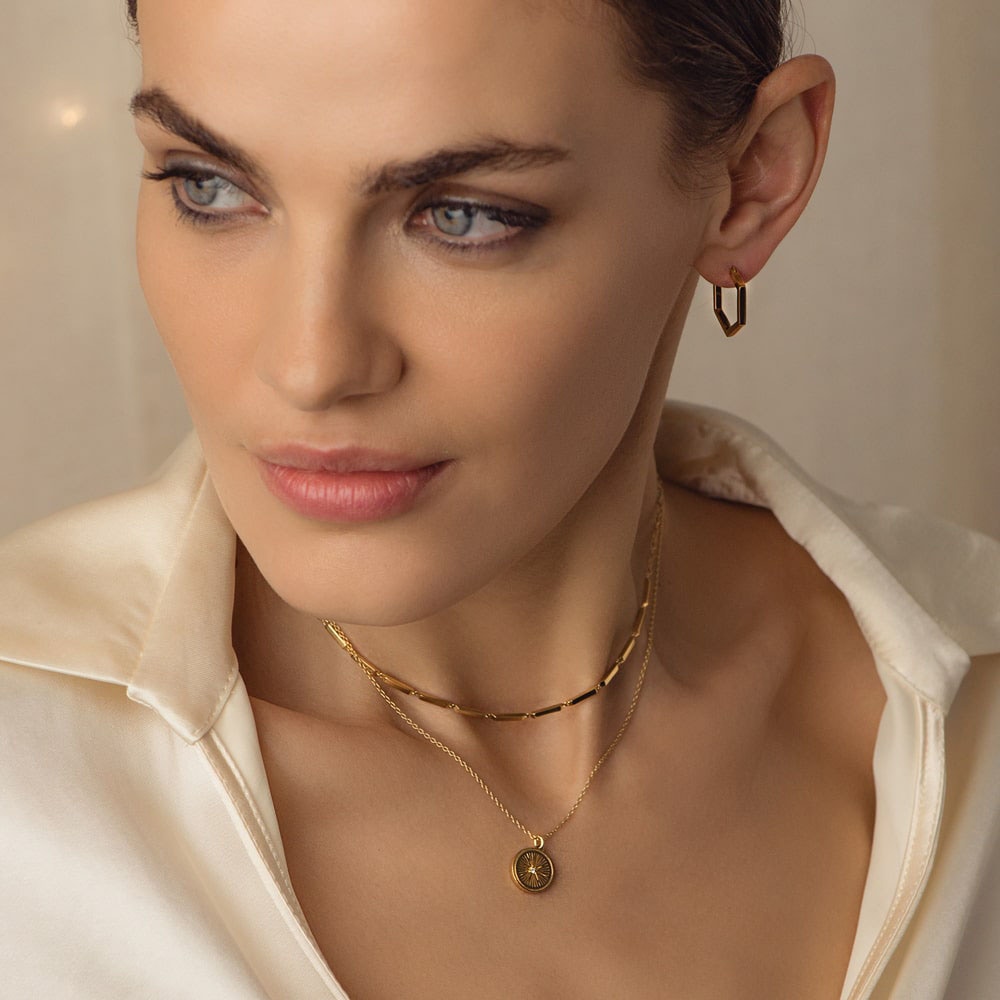 HOOPS WITH AN EDGE
Hexagonal hoops to hoops with an edge, this is a modern take on the classic gold hoop design. Each faceted angle reflects the light with impact and each corner provides a sharp edge to your look. Have them glowing in gold as an everyday piece, or embellished with sparkling stones for added drama. Choose from huggie hoops, small hoops, medium or large, or take them all and stack in size order along your ear.

These power accessories pack some punch and will instantly refresh your outfit. From flowy summer dresses to your everyday work attire, add some edge and keep your look on point.
HOOP EARRINGS THAT DROP
Hoop earrings with gemstone drops feel ultra-special, and no doubt look elegant with everything from tailoring to denim. With a plethora of pendants to choose from, these designs showcase a cool and contemporary silhouette while giving a subtle nod to vintage glamour.

Most people tend to have one gemstone or colour that they naturally gravitate towards. From the irresistible iridescence of Labradorite to the amazing turquoise texture of Amazonite, to the subtle shimmer of Moonstone and the lustrous fresh feeling of Pearls, the choices are endless.

Pair with more gold huggies or matching gemstone studs, but keep your gemstone drops at the centre of the show. And don't forget, they make precious gifts too.
Looking for more style tips? DM us on Instagram to chat with a member of our AC team. Or share your ear stack creations with us using the hashtag #ACStyle.