Layered necklaces
are an on trend and creative way to have fun with your jewellery whatever the occasion. Read on for our top styling tips.
Who hasn't scrolled through Instagram or flicked through a magazine looking for inspiration from starlets and influencers who seem to have mastered the art of layered necklaces only to try it at home and find yourself looking like the Topshop jewellery rack on a bad day? It seems so easy, doesn't it? Start short, maybe add something longer, what about a colour? And suddenly it's all a shambles not a carefully curated mess. If you're one of those people, AC is here to help. Follow our guide and you'll soon having layering down to the fine art few people appreciate it is.
Starting with double necklaces
If you lack confidence with your layers, doubling up is the best place to start. The double necklace has myriad possibilities. You could wear two gold layered necklaces at different lengths either mixing your metals or keeping them the same. Style a thick choker chain with a thinner chained piece, maybe one of our lockets or a gemstone pendant. Two thin chains in contrasting metals are an elegant way to stack for evening wear, or you could even style a pearl choker with a gold chain for a sophisticated twist on the twin set. If, like Nora Ephron, you don't like your next, start the double necklaces at lower lengths; play with mid-chest and decolletage, especially if you're fond of a lower cut neckline.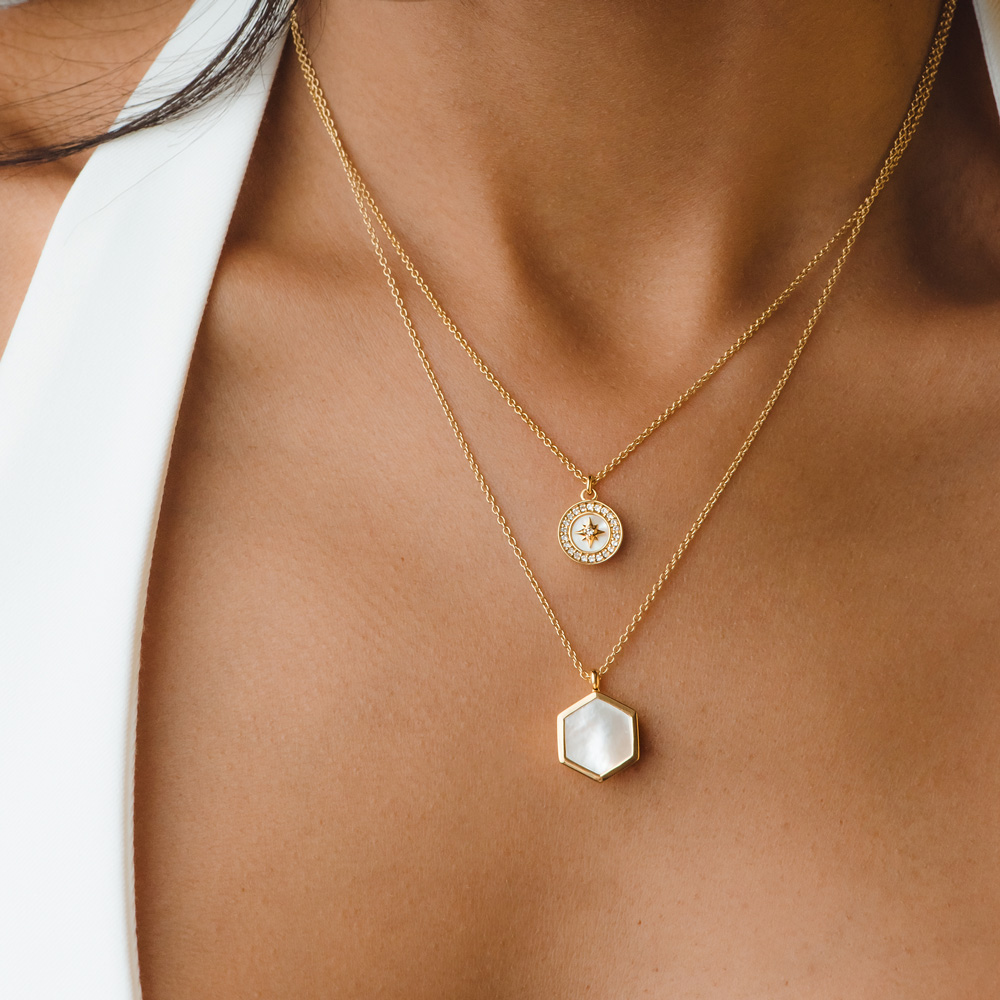 Moving on to stacked necklaces
You've mastered the double up, now it's time to for things to get messy. The key to multi-layered necklaces is confidence and preparation – experimenting with a neckmess when you have 10 minutes to get ready for work is not your best strategy. Start with a necklace you love, preferably something short and without a pendant – we can add those in later. This can be our white pearl choker, or our Square Link chain necklace in yellow gold. Next a contrasting piece in the same length, or something slightly longer – AC's mini Biography locket fits the bill or maybe a gemstone pendant for some colour. If you want to bridge the gap between the choker and the locket, why not add a tiny enamel colour pop from one of our Cirque necklaces or a flash of white sapphire courtesy of our mini Evil Eye Biography pendant? It comes with added protection.
For a final flourish, something bold for the decolletage. The Large Polaris mother-of-pearl locket is ideal. It's an eye-catching design and it literally adds personality to the layering because you can customise it with a photo and inscription. Because that's what layering necklaces is all about – using your jewellery to tell the myriad tales that make up your unique story.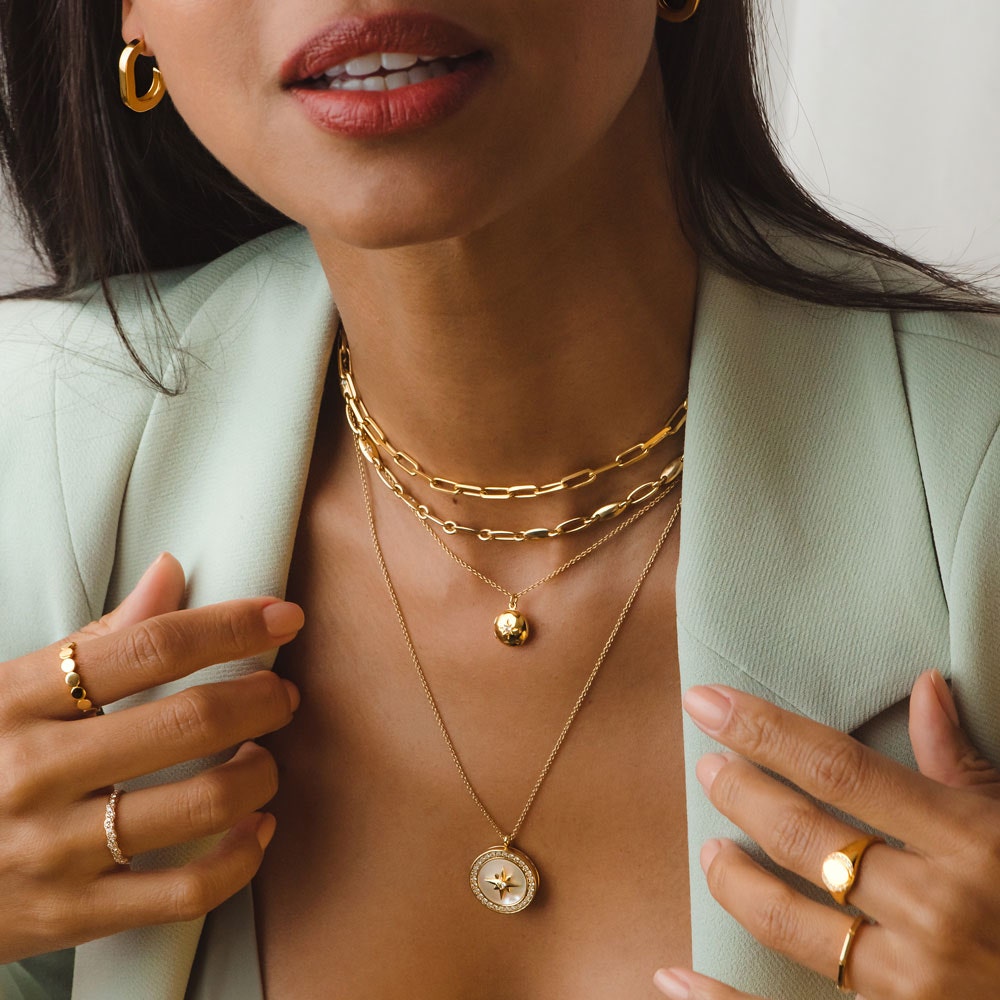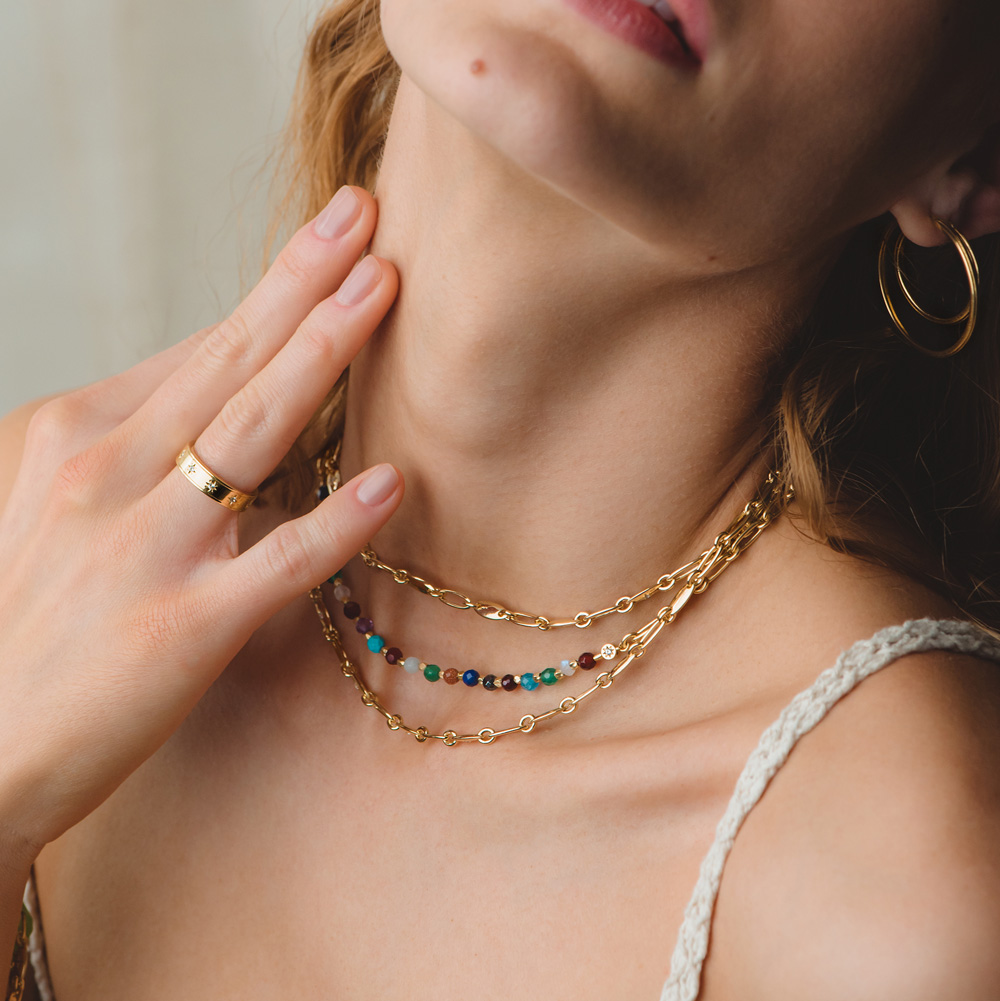 Our favorite necklaces for layering
All AC collections are designed to complement each other, which makes curating a neckmess just with AC designs really easy. However, there are a few standouts. Our Soulful Stones collection is a perfect way to add a pop of colour as is AuBar, if you like your pops subtle. Square Link is there for all your chain needs. Cirque and mini Biography works as little details to fill in gaps and then you have our lockets from prominent to petite as the star piece to bring structure to the mess.
How many necklaces can you wear at once?
However many feels comfortable. Gwyneth Paltrow often takes to Instagram sporting six or seven necklaces, AC ambassador Amy-Beth is a fan of the double-up. It comes down to time, your outfit, even how you're feeling – do you want something subtle or are you up for making a statement. If you're going to opt for multiple stacked necklaces, take some time choosing your layers. Then take Mlle Coco Chanel's advice: "Before you leave the house, look in the mirror and take one thing off."
How many necklaces can you wear at once?
However many feels comfortable. Gwyneth Paltrow often takes to Instagram sporting six or seven necklaces, AC ambassador Amy-Beth is a fan of the double-up. It comes down to time, your outfit, even how you're feeling – do you want something subtle or are you up for making a statement. If you're going to opt for multiple stacked necklaces, take some time choosing your layers. Then take Mlle Coco Chanel's advice: "Before you leave the house, look in the mirror and take one thing off."