Can you wear
gold
and
silver jewellery
together? The short answer - yes! Mixing metals is pretty much the norm these days. Unless you're a firm devotee of either gold or silver, mixing your metals is a fun, creative way to get a unique look. And with the rising popularity of
rose gold
in recent years, there's even more choice as well as more subtle ways to mix and match your jewellery.
We've had a look at three ways to mix your metals when it comes to jewellery, plus our favourite pieces to do it with. Read on to mix it up.
---
1. Stacking rings
Our favourite way to mix metals - and one of the easiest - is by stacking rings. Something of an AC signature, our stacking rings come in all shapes, sizes, styles and importantly - metals. If you're new to mixing, take your base layer depending on what you feel most comfortable wearing and pepper in a couple of contrasting pieces. Keeping styles and textures cohesive is a nice way to do the trend. Try stacking our Stilla Disc and Beaded Rings in both gold and silver. Picking a statement ring in a contrasting shade is also nice - like our Tiny Star Rings which come in both gold and silver.

If more is more, there doesn't need to be any rhyme to your reason. Mix and match to your heart's delight and have fun with it.
2. Layering bracelets
Whether you like a maximalist look for your wrists or something more delicate, create an effortless, stylish bracelet stack by mixing metals. Layer a chunky gold charm bracelet laden with charms alongside a delicate Tiny Star chain in sterling silver.

And don't forget gemstones. Our Lapis Evil Eye and Black Onyx Biography bracelets are set in sterling silver and look beautiful mixed in with bright Green Malachite or Red Agate Biography bracelets which are set in yellow gold.

Remember, there are no rules! Often we think of gold pieces as being chunky and silver pieces as delicate but there's no reason why this has to be the case. Our chunky Square Link Bracelet in sterling silver is heavy weight and super contemporary whilst all of our delicate trace chains also come in gold.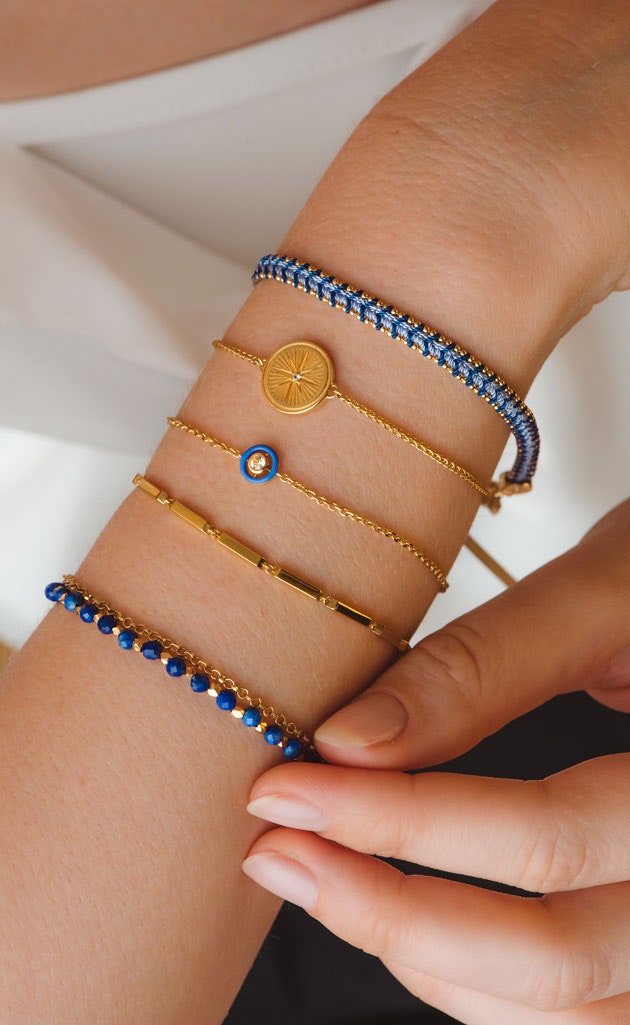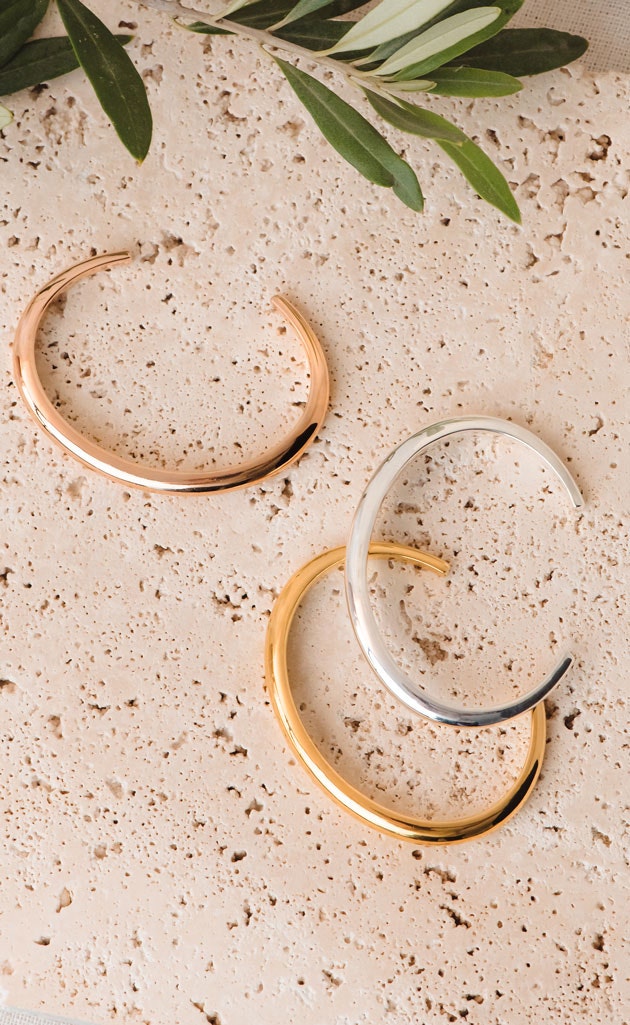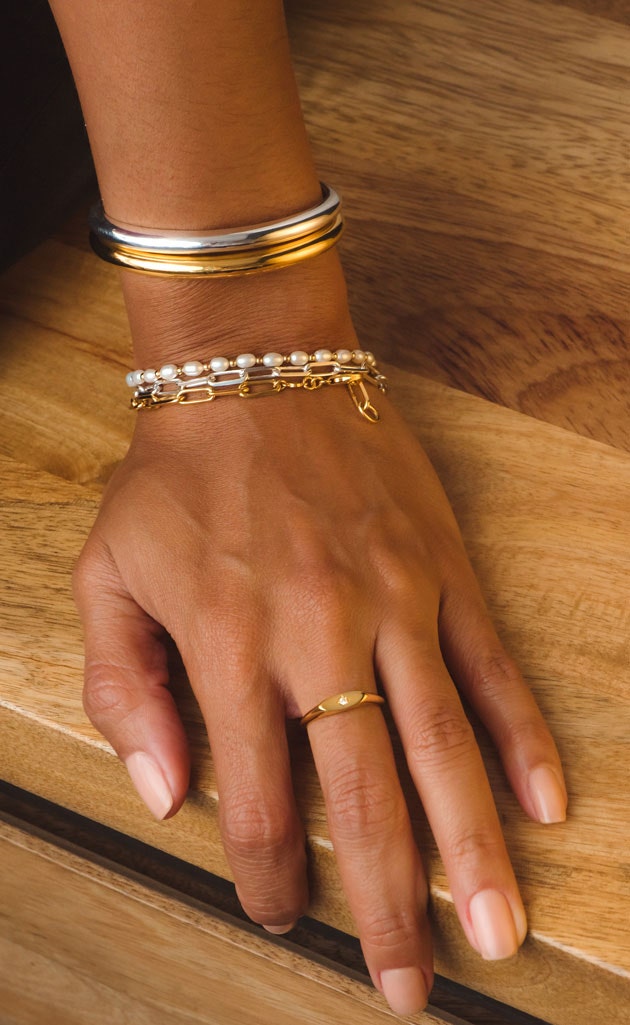 ---
3. Mix + match earrings
Your lobes are the ideal spot to experiment with mixed metals. But where to start? Our single earrings are perfect for mismatching, with tiny cartilage hoops available in yellow gold, rose gold or sterling silver as well as chunkier hoops and even diamond hoops set in either yellow gold or sterling silver. Wear one along with your favourite studs or - if you've got the piercings - layer different metals along your ear.

Our single studs are also a fun, easy way to mix things up - our Sun Biography studs come in gold or silver for ultimate mixing potential.

Crawlers are a great way to add interest to your ear stack and introduce a little asymmetry. We love the White Sapphire and sterling silver crawler worn in just one ear and paired with delicate gold hoops for an effortless, cool girl feel. Normally go silver with your studs or hoops? Mix in a gold ear cuff on one ear for a mismatched, effortless look.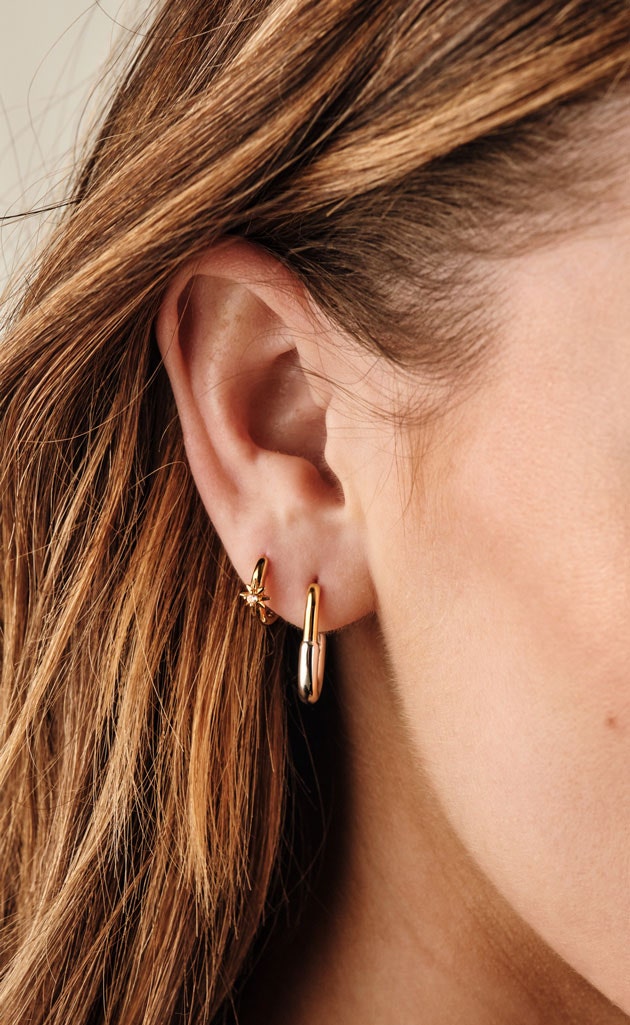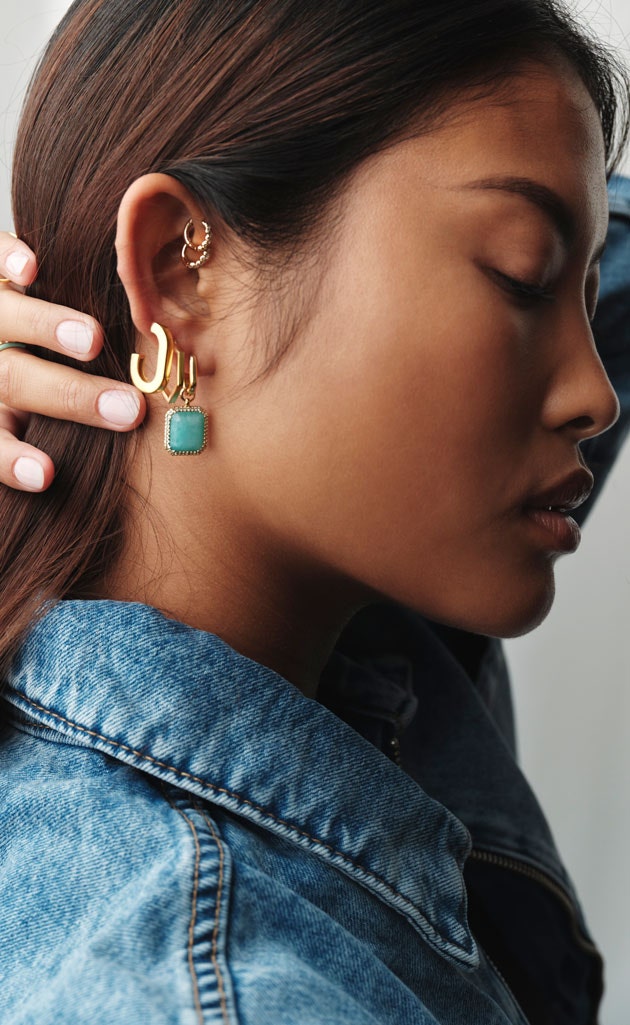 ---
---
Still got questions? Here are some of the queries we get when it comes to mixing metals.
Can I mix my engagement ring and wedding band?
Absolutely! You're going to be wearing them for a long time, so it's important they reflect your style - and that doesn't have to mean matching. One of our favourite combinations is a rose gold engagement ring with silver or white gold wedding band for a classic yet playful combo. A little bit unexpected and a lot you.
Can I wear gold and silver rings together?
Rings are a great place to start when it comes to mixing metals. If you want a more subtle mix, try rose gold and sterling silver for gentler tones. Thin, eternity bands and stacking rings are the perfect way to build up something that feels effortless and completely you.
How do I know whether gold or silver suits me?
A bit like 'doing your colours' in the Eighties, we think being restrained to either gold or silver because it suits you is a thing of the past. Some say if you have cold colouring then silver is for you whilst a warm skin tone suits gold. Perhaps you feel more comfortable in one or the other or notice you prefer the way it looks. Either way, go with what you love and don't worry too much about what 'suits' you. That's the joy of mixing metals - the rules no longer apply.
Can I mix gold and silver jewellery in all seasons?
We love a mixed metal look for all seasons. In summer, it's gorgeous to mix colourful gemstones, shimmering silver and warm gold on your wrists and hands for beachy, ocean vibes. In winter, mixing gold and silver can add interest to knitwear. Afterall, when you're all bundled up in layers and a coat, stacking rings can add personality to the part of your body that's still visible!
How do I mix rose gold?
We love mixing in rose gold for a soft, effortless contrast. Our favourite rose gold pieces to mix and match include the Halo Diamond Single Huggie hoop and the Biography Locket Bracelet which gives a cool, double-layered feel to the mix.
What do you mean by gold vermeil?
You can read everything you need to know about gold vermeil in Your Guide to Gold Vermeil. In a nutshell, gold vermeil is a plating process that produces a much higher quality and more durable finish than standard plating.
---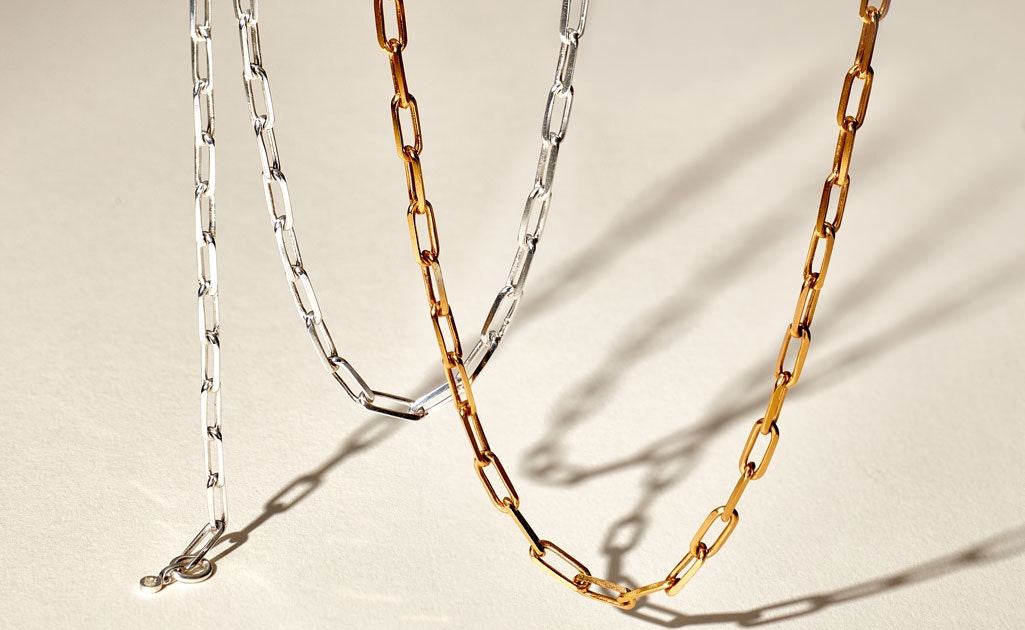 So, there you have it. We hope you're inspired to get mixing and have fun with your pieces. And remember, if you have any questions, just drop us a line at personalshopper@astleyclarke.com and we'll do everything we can to help.